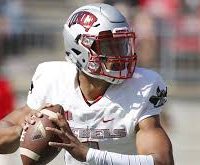 In the season opener, UNLV ran for over 300 yards and the defense held USC to just 19 points through three quarters, setting up the Rebels with a chance at a marquee upset. But the passing game struggled behind Armani Rogers' 12 of 27 performance.
Tony Sanchez wasn't deterred from praising his quarterback.
"When we watched the film, he had a good game," Sanchez said. "Don't worry about the completion percentage. He had a nice ball down the sideline to Keys. He put the ball in the right spot in the endzone to the back shoulder on Keys. He also had one down the left sideline. He gave Drew Tejchman a great shot to get the ball in the middle of the field. Two other balls were dropped."
While shifting the blame off of his quarterback, he dumped some onto his receiving core. But regardless of where the blame falls, completion percentage is tough to ignore.
If Amani Rogers has suddenly become an accurate passer, but his receivers can't catch, then UNLV's passing game is no better shape than it was a season ago when Rogers ranked last in the Mountain West among eligible quarterbacks in completion percentage at 52.4 percent.
There is still reason to question Rogers' accuracy. The nice ball down the sideline to Keys that Sanchez describes is the play that Kendal Keys was injured on. The pass was overthrown leading to Keys diving with his arms outstretched. He couldn't break the fall with his arms, so his face landed on the field.
Keys left the game and had to receive stitches. He is expected to play this week against UTEP.
A bigger problem against USC than accuracy or drops was pass blocking. UNLV allowed Rogers to be sacked five times in the game. Last year UNLV allowed just two sacks per game.
"Then (Rogers) ran for over 100 yards. He got sacked a couple times," Sanchez said. "We've got to sure that up. Maybe the best pass rush defense we'll face see this year – we'll see some other good ones too. We gave up some sacks, but for him to rush for over 100 yards after being sacked five times."
Rogers rushed for 82 yards in the game, but when you factor out the five sacks, he posted 103 yards on 13 carries. A monster rushing game against a power conference opponent.
Rogers' legs are why he is the quarterback. They are a major reason why UNLV is going to put up a lot of points this season.
Even when teams load up the box, the threat of a zone read with Rogers and Lexington Thomas means defenses still struggle to slow down the Rebel rushing attack.
Sanchez was also pleased with how Rogers handled his leadership role in a road game against a top-25 team.
"He was calm and cool there," Sanchez said. "He did a really good job. There were no delay of games. I believe we had one false start on (Nathan) Jacobson. But everything looked smooth out there. He did a really good job of operating the offense. He did a really good job of ball placement. He didn't put the ball into bad situations. I thought he did a really really good job, especially considering the environment."
UNLV was called for just 4 penalties in the game. Two were defensive pass interference. One was the false start Sanchez alluded to, and the final penalty was for offensive holding.
It is a fairly low bar to clear, but Sanchez has been preaching about his teams experience and maturity heading into this season. It appears UNLV should be playing a mostly clean brand of football, as they did last season. In 2017 UNLV was one of the 20 least penalized teams in the country, getting flagged just 4.7 times per game.
"There's a lot of pressure on the guy," Sanchez said. "He's going into his sophomore year. He's been elected a team captain. Everyone's looking at him like, 'Oh man, can you save us.' And he's just got such a cool, calm demeanor. You see the way he carried himself out there. As soon as the game was over, Clay Helton came over and said, 'Wow, you gotta a shot. That quarterback is good.' And he is. He is the real deal. We're glad he's on our team."
#UNLVvsUSC 2Q 10:32 | @A_Rogers4 hits Kendal Keys for the TD — @UNLVFootball takes the 14-9 lead! Watch it on the Pac-12 Network #MWFB pic.twitter.com/Uyl4sWkvSO

— Mountain West (@MountainWest) September 1, 2018