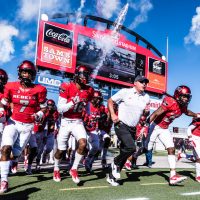 Last season UNLV opened their home slate as 45-point favorites against Howard. UNLV lost and eventually missed bowl eligibility by one game.
To open the home slate in 2018, UNLV eliminated the what-if game by dominating UTEP 52-24.
The Rebels scored at will. With under two minutes to go in the first half, the Rebels took over on their own seven-yard line.
After two safe rushing plays, UTEP called a timeout on 3rd and two trying to force a punt to get the ball back.
Lexington Thomas picked up the first down, and then Armani Rogers ripped off a 36 yard carry on a quarterback draw.
"We were kind of in between," Tony Sanchez said. "We wanted to see what happened on first down. If we got off schedule, didn't have a good play, then let's just get into in halftime. Once we got the first 1st down, we said, 'alright, let's go into that hurry-up offense.'"
A couple of big runs later, UNLV was in scoring position and Rogers hit Darren Woods in the end zone for a touchdown and a 38-10 halftime lead.
#UTEPvsUNLV 2Q 0:22 | @_dwizz_ fights to cross the plane and extend the lead for the Rebels — Watch @UNLVFootball on @ATTSportsNetRM and the @MountainWest Network #MWFB pic.twitter.com/LUvuU1DSrt

— Mountain West (@MountainWest) September 9, 2018
The drive proved how easily UNLV could manhandle UTEP and how good the running game is. The Rebels had a two-minute drive situation where they ran the ball six times and threw it just once. UNLV ran for over 300 yards against USC last week and torched the UTEP defense for 414 yards, a new record for the Tony Sanchez era.
With Thomas and Rogers, UNLV can run on anyone. Thomas ran 17 times for 127 yards and two touchdowns, while Rogers also surpassed triple digits with 103 yards on 10 carries.
Thomas is now 987 yards from the UNLV all-time rushing mark. He needs to average 98.7 yards over the next 10 games to eclipse Tim Cornett's mark of 3,733 yards.
Despite three passing touchdowns, Rogers struggled through the air. He connected on just 6 of 13 passes, but did gain 119 yards.
"We've got to do a better job on some of our passes and catching," Sanchez said. "Our completion percentage wasn't where it needed to be. I thought we got a little sloppy in the passing game in second half."
On the defensive side, UNLV still seems far away from competence. UTEP rushed for 265 yards on 7.2. UTEP gashed UNLV for 11 rushing plays of over 10 yards. While two of the Miner touchdowns came with the score out of hand, it was still a mix of UNLV's first and second team defense on the field.
Last week Northern Arizona of the FCS held UTEP to 107 rushing yards and under 3 yards per carry.
"Defensively, we came out a little slow," Sanchez said. "A little bit of a hangover from last week. But they found their footing and did a good job down the stretch."
While UNLV took care of business on the field, the support was lacking. The announced attendance of 14,122 is the lowest of the Tony Sanchez era. Temperatures were over 100 degrees at kick off, making it an unpleasant experience at Sam Boyd Stadium.
But the Rebels now have competition in the city. Las Vegas Lights FC hosted 8,017 fans in a game at Cashman Field where a helicopter dropped $5,000 on the field for fans to grab at halftime. And over in Summerlin, the Golden Knights rookie squad took on the Colorado Avalanche in front of a packes City National Arena.
UNLV is going to have to do more than beat up on the worst team in college football to garner attention in Las Vegas.
UNLV had some trouble on the road against Northwestern on Saturday, losing 30-14. Caleb Herring, color analyst for the Rebels on the radio, joined Cofield & Co. to discuss the game and spoke on the team's difficulties...

Read More
UNLV had some trouble on the road against Northwestern on Saturday, losing 30-14. Caleb Herring, color analyst for the Rebels on the radio, joined Cofield & Co. to discuss the game and spoke on the team's difficulties...

Read More
After sputtering to a 17-point performance in a loss last week to Arkansas State, UNLV's offense still lacked the punch it needed to knock off Northwestern. The Rebels failed to score after halftime and lost to the...

Read More