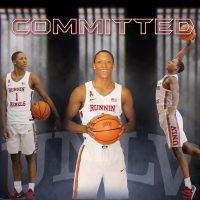 Josh Pierre-Louis took a visit to UNLV over the weekend, and the trip couldn't have gone better for Marvin Menzies, as Pierre-Louis committed to being a Runnin' Rebel.
— Josh Pierre-Louis (@mvojet1) September 9, 2018
Pierre-Louis is rated as a three star recruit by Rivals but is not nationally ranked in the class of 2019. The 6-foot-2 guard is the second commit in the class of 2019 for UNLV, as point guard Ethan Anderson committed earlier this year.
UNLV only has two seniors set to graduate after this season, so the Rebels recruiting class is already at capacity. But there is likely to be more roster turnover, as UNLV is still recruiting top-end talent in the 2019 class.
Clark high school's Jalen Hill is a 4-star recruit and will receive an in-home visit from UNLV this week.