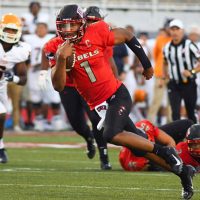 Armani Rogers has struggled throwing the ball two games into his sophomore campaign. He has completed just 18 of his 40 passes for a 45 percent completion percentage.
After a matchup with USC's high-end pass defense that saw Rogers go 12 of 27 for 97 yards, Tony Sanchez said not to worry about the completion percentage. But Rogers followed that up with a 6 of 13 day against lowly UTEP.
"We have to do a better job with some of our passing and catching, and the completion percentage wasn't where it needed to be," Sanchez said after the game. "I thought we got a little sloppy in the passing game in the second half."
UTEP has lost 14 straight games, the longest in the nation. During that streak, only Army's triple option offense posted a lower completion percentage (3 of 7) than Armani Rogers.
While the sample size is not large enough to make sound analysis, Rogers struggled mightily in the short passing game.
"We give him grief about it all the time, but the completion percentage down the field was really good," Sanchez said. "It when we were throwing the shorter, quick game stuff where he got a little bit more rushed in his delivery. He'll work on that and get better at that."
Rogers completed just 2 of his 6 passes that traveled 10 yards or less in the air. Last year Rogers hit on 60.4 percent of his short passes, which still ranks below average nationally, but is significantly better than the 33.3 percent he connected on against UTEP.
Rogers reads the corner blitz and changes to the quick screen, but he rushes the throw and spikes it into the ground.
Rogers was better on deep balls, as he was 4 of 7 on passes traveling over 10 yards in the air. However he overthrew two passes of 30-plus yards, but they were not counted in his final stats due to UTEP penalties.
At the end of the day, Rogers threw the ball 15 times, completing just six of them with only one dropped pass.
The sophomore quarterback is not expected to lead an efficient passing attack, but to struggle that much against the weakest opponent on UNLV's schedule is worrisome.
Part of the reason Rogers isn't expected to hit at a high completion percentage is UNLV's love of the deep ball. The Rebels opened the scoring against UTEP with a 51-yard strike to Mekhi Stevenson.
#UTEPvsUNLV 1Q 12:42 | @A_Rogers4 finds Mekhi Stevenson for the 51-yard TD! @UNLVFootball takes an early lead — watch on AT&T SportsNet or the @MountainWest Network #MWFB pic.twitter.com/uQcOnWkE5Q

— Mountain West (@MountainWest) September 9, 2018
A double move combined with the safeties biting on the play fake gave Rogers a wide open receiver.
"You don't ask a quarterback to conform to you," Sanchez said. "You conform what you're doing around their abilities. Armani's got a live arm and throws the ball down the field well. And obviously we have a good rushing attack. And that's very complimentary to the run game, being able to have a good vertical passing game."
But when UTEP provided slightly better coverage, Rogers couldn't connect.
This play was nullified thanks to a UTEP penalty, but Rogers missed an open receiver with an overthrow. The way in which Rogers misses receivers is a positive, as he rarely under throws a pass, meaning defensive backs can never get their hands on an errant ball.
For the season, Rogers has yet to throw an interception compared to his five touchdowns.
Another split to keep an eye on is Rogers' accuracy against the blitz. UTEP's base defense has three down lineman, and when UTEP sent just three pass rushers, Rogers completed 4 of 5 passes for 102 yards. He was 2 of 8 for 17 yards when UTEP sent four or more rushers.
Through two games Rogers has taken a step back from last season, where he finished last in the Mountain West with a 52.4 percent completion percentage.
However the run game continues to make Rogers a major weapon for UNLV's offense. He ranks third in the Mountain West among all players in rushing yards per game at 92.5. Only his teammate Lexington Thomas (131.5 yards) and San Diego State's running back Juwan Washington (157 yards) average more yards per game on the ground.
"There is a lot on him in the rushing game," Sanchez said. "He had over 100 yards rushing, and then kind of fell off in the passing game. If he puts those two things together, this offense is really going to click."
Related News
Despite the Mountain West Preseason Football poll which projected UNLV to finish in 5th place inside the West Division, only above San Jose State,  Head Football Coach Tony Sanchez doesn't appeared to be upset by the low...

Read More
It's that time of the year again when the Mountain West holds it's annual Football Media Day in Las Vegas and hope springs eternal for every team, as well as, for Commissioner Craig Thompson.  For nearly 21...

Read More
UNLV was without an apparel deal for 52 days, but the Rebels will be sticking with Nike. The school announced a new 3-year deal worth $9 million in product. The new deal has no cash value. Athletic...

Read More