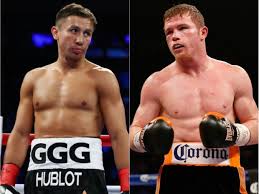 By: TC Martin
Saul Canelo Alvarez and Gennady Golovkin made their final appearances in front the media at their final pre-fight press conference on Wednesday and both are glad they don't have to see each other anymore… until Saturday night.  GGG refused to do the traditional face-off as he said, "No need. I'll see him Saturday night."
​The mega fight for the undisputed Middleweight Championship of the World will take place for a second time in 12 months at T-Mobile Arena Saturday at 8:00pm. The fight is sold out and fans hope both fighters deliver on their promise of seeking to destroy the other,so everyone knows who the best middleweight in the world is.  We still don't know who is better because nothing was settled last year as the two warriors fought to a controversial draw.  This time, neither wants that outcome.
​After the initial rematch was postponed from the original May 5th date due to Alvarez' suspension for testing positive for clenbuterol, this fight has become personal and both fighters have actual dislike and lack of respect for each other.  Golovkin feels Alvarez cheated while Canelo is tired of the accusations.
The fight was also in jeopardy because the two sides couldn't agree on a proper purse percentage split.  Golovkin wanted more now that the fight was delayed and Golden Boy Promotions, who represents Alvarez gave a deadline for Golovkin to accept the offer or the fight was off.  After a grueling and ugly negotiation battle, the sides agreed to a percentage of 55 -45 in favor of Canelo.  GGG wanted at least 45% after receiving only 30 percent in the first fight.
​The talking is over and now we wait for the war.  At least we hope we get a battle of aggression and action.  The first fight had hints of that but now both fighters are promising something much better.