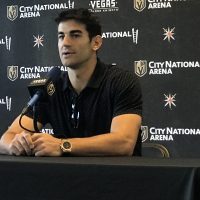 Vegas Golden Knights forward Max Pacioretty joined the Vegas Golden Knights Insider Show today for his only in market radio appearance.
Pacioretty talked about how he broke the news of his trade to Vegas to his son, his new coach, Gerard Gallant, playing with Paul Stastny, and what his first home game for the Golden Knights will feel like.
All this, and much more.
Related News
The breakout star in the Los Angeles media told Cofield & Co. why he thinks the Lakers' owner has been so quiet through the mess of the last three weeks. He handicapped the chances of the Lake...

Read More
Tony Sanchez landed a big score this week with the addition of wide receiver Randal Grimes, a trasnfer from USC. Grimes had committed to Minnesota, but then changed his mind and landed in the Rebels' lap. The...

Read More
Liz Cambage is arguably the best female basketball player in the world and is now a member of the Las Vegas Aces.  She sat down with TC Martin in a very open and honest conversation to tell...

Read More