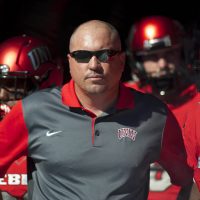 Tony Sanchez was not pleased with his player's effort in a disastrous performance on Saturday.
"It starts with me. Today was a reflection on me. But I played the game. Everybody on our coaching staff played the game. It's on you to make sure your mind is right and you are ready to go. Great team football is 11 individuals doing their job at max capacity every single snap," Sanchez said.
He continued: "It's a gut check time for quite a few guys in that locker room. We're going to roll with the guys who want to go. We're going to find those 22-24 guys that want to roll. And the rest of them, if they're going to sit there and be in la la land, that's fine they can stand on the sideline or stay at home."
With Armani Rogers sidelined with a toe injury, Max Gilliam got his first career start for the Rebels.
It could not have gone worse.
Gilliam completed 15 of 35 passes for 123 yards. He threw two touchdowns, but UNLV was already down 36-0 before either strike. New Mexico went on to win 50-14.
"We knew we had to play better around Max early on," Tony Sanchez said. "We had some errant snaps. One bad ball put us in a bad situation."
It was an embarrassing day for UNLV, who opened the game with six straight drives failing to get a first down. At the half, UNLV had 0 rushing yards. For the game Lexington Thomas had just six carries for 36 yards.
"You gotta run harder," Sanchez said. "(Charles Williams), we felt like was running harder. Just putting his head down. And it's not just (Thomas) You have to commit to playing a physical, violent football game. Every damn snap."
Williams had nine carries for 31 yards.
The defense was not much better, as the Rebel cornerbacks were shredded in one-on-one coverage. New Mexico also started a back up a quarterback, but Sheriron Jones completed 13 of 20 passes for 250 yards and four touchdowns, as UNLV's cornerbacks never seemed to make a play on a deep ball.
"They did a good job of going over the top on us a bunch of times. We didn't play the ball well," Sanchez said.
The Lobos didn't have the most explosive running game, but kept piling up the yards with 252 yards on 60 carries.
Special teams continues to be a nightmare for the Rebels, as for the third consecutive week an opponent punt resulted in a lost fumble.
This time it was Alex Perry, who was not the return man, getting hit in the leg by a punt. The Rebels also failed to down a rolling punt inside the five yard line early in the game.
The end result was the most points UNLV has ever surrendered to New Mexico.
"We have to dig down deep. There's still a lot of football left," Sanchez said. "We know we are a better football team than that. We feel like we are a pretty bad football team right now. I'm embarrassed. Our players are embarrassed."