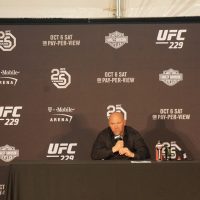 UFC lightweight champion Khabib Nurmagomedov defeated Conor McGregor at UFC 229 on Saturday, October 6 to retain his title.
After the fight, Nurmagomedov jumped outside the octagon and appeared to have tried to attack McGregor's training partner.
That started a few brawls both inside and outside of the cage.
– Conor McGregor taps out
– Khabib exits the cage towards McGregor's camp
– Khabib's team jump in the cage and attack Conor

CRAZY!!!!!!! #UFC229pic.twitter.com/JJ6HphbSpF

— 7 (@dr7n_) October 7, 2018
Khabib's Team jump into the Octagon & Attack Conor McGregor after the Fight, #UFC229 #KhabibMcgregor ???????????????????????? pic.twitter.com/NEbOlw7DUH

— BOXING CORNER 2️⃣4️⃣/7️⃣ (@boxingcorner247) October 7, 2018
Afterwards, UFC president Dana White spoke about the incident and what will happen moving forward.
Video below. (Warning: NSFW)
Related News
By: TC Martin Manny Pacquiao displayed once again that age isn't nothing but a number.  The 40 year old senator from the Philippines out-punched and out-classed a younger Keith Thurman earning a split decisions victory in front...

Read More
By: TC Martin Manny Pacquiao displayed once again that age isn't nothing but a number.  The 40 year old senator from the Philippines out-punched and out-classed a younger Keith Thurman earning a split decisions victory in front...

Read More
Manny Pacquiao defeated Keith Thurman via split decision on Saturday, July 20 at MGM Grand Garden Arena. After the fight, WBC heavyweight champion Deontay Wilder spoke to Helen Yee of Eyes On The Game about what he...

Read More