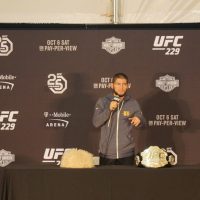 UFC lightweight champion Khabib Nurmagomedov defended his title against Conor McGregor by submission in the fourth round at UFC 229 on Saturday, October 6.
However, immediately after the fight, Nurmagomedov jumped out of the octagon and tried to attack McGregor's training partner. Brawls began shortly after both inside and outside the octagon.
– Conor McGregor taps out
– Khabib exits the cage towards McGregor's camp
– Khabib's team jump in the cage and attack Conor

CRAZY!!!!!!! #UFC229pic.twitter.com/JJ6HphbSpF

— 7 (@dr7n_) October 7, 2018
Khabib's Team jump into the Octagon & Attack Conor McGregor after the Fight, #UFC229 #KhabibMcgregor ???????????????????????? pic.twitter.com/NEbOlw7DUH

— BOXING CORNER 2️⃣4️⃣/7️⃣ (@boxingcorner247) October 7, 2018
Afterwards, Nurmagomedov apologized for his actions and explained his side of the story.
Video below.