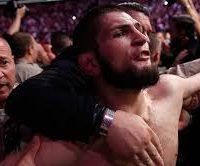 By: TC Martin
Dana White and the UFC were in the midst of having the biggest night in their company's history last Saturday only to see if come crashing down; literally crashing into the crowd of 20,034 at T-Mobile Arena.
After Khabib Nurmagomedov thoroughly dominated fan favorite Conor McGregor and earned a submission victory in the fourth round, Nurmagomedov reacted to verbal insults by McGregor's corner and hurled himself over the cage and into the crowd where a melee ensued.  McGregor began climbing up the cage to engage but was stopped by Nevada State Athletic Commission inspectors and threw several punches himself in retaliation to Nurmagomedov's team coming into the Octagon.
​A thrilling and sometimes gruesome fight was marred in the end by personal hate from these two camps that goes well beyond last Saturday night.  Many will remember when McGregor attacked a UFC bus full of fighters at the Barclays Center in Brooklyn, New York in April of this year.  On that day, McGregor threw a dolly at the bus and broke windows causing injuries to several fighters who had glass in their eyes and body.  His target was Nurmacomedov's friend.  McGregor was arrested and this set the stage for White's promotional campaign for UFC 229.
​After order was restored, White would not present the belt to Nurmagomedov fearing more of a negative reaction from the pro-McGregor crowd.  After reviewing the video footage later that night, NSAC Executive Director Bob Bennett elected to hold Nurmagomedov's check of $2,000,000.  McGregor was given his check of $3,000,000.  "We have a pending investigation" said Bennett on Sunday. "We are looking at all aspects of what occurred and will go from there."
White was dejected and exhausted when he met with reporters after the fight in another embarrassing event for the UFC.  The organization has endured it's stars being jailed, involved in drug and domestic abuse scandals and now two of it's best fighters inciting a riot on the night of it's largest gate ever in Nevada of $17.2 million.
​The investigation will surely produce fines and suspensions of those that were involved.  "This is in the hands of the Commission" said White.  They regulate our support and they will determine what happens."  When asked how bad is this for the UFC, White added  "Real Bad.  When you have the Governor of the State of Nevada here and he runs out of the building, that's bad."