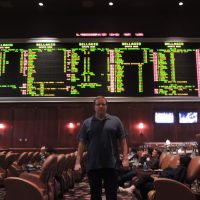 The Pregame CEO/Founder joins Steve Cofield, Adam Hill & Ryan McKinnell on Cofield & Company to discuss the best bets, best value and which games to avoid for Week 7 of NFL action.
Bell says of Vikings/Jets, "In this one, I like Minnesota- for one reason I think Zimmer is one of the 3 or 4 best coaches in the NFL. Zimmer is just going to trick and cause a lot of trouble for Darnold so I'm not anxious at all to bet the Jets."
Bell talks Tampa Bay/Cleveland, "I like TampaBay here. I think the Browns are a tired team and now they're on the road all the way down in Tampa."
Bell discusses the Patriots/Bears game sharing his pick, "To me, the Pats are good in this spot. I love the Pats."
Bell breaks down the Ravens/Saints game saying, "This is going to answer the question, this game, can a great defense stop a great offense in the modern era laying less than a field goal? I'm on the Ravens."
Follow RJ Bell on Twitter by clicking here.
Follow Pregame on Twitter by clicking here.
(Photo via/The Big Lead)
It's that time of year when we get to really see which NFL teams look like they could go far in the playoffs. Stanford Routt is a former NFL cornerback and one of our Raiders insiders. He...

Read More
It's that time of year when we get to really see which NFL teams look like they could go far in the playoffs. Stanford Routt is a former NFL cornerback and one of our Raiders insiders. He...

Read More
It's that time of year when we get to really see which NFL teams look like they could go far in the playoffs. Stanford Routt is a former NFL cornerback and one of our Raiders insiders. He...

Read More