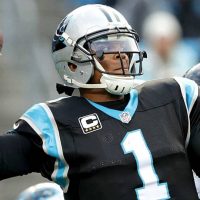 The Former Panthers/Rams/Cardinals OL and current WFNZ host joins Ryan McKinnell & Mark Seidel on Cofield & Company to break down the Carolina Panthers facing the Baltimore Ravens this weekend, Rae Carruth situation in Charlotte vs. OJ Simpson here in Vegas.
Garcia talks Cam Newton, "He has done tremendous things with the growth & potential he's been able to bring to the Panthers. I don't think he's given enough credit for how he's been able to play that position. The bottom line is this guy is a winner."
Garcia talks Luke Kuechly, "He is one of the smartest football players you're going to find. He's a tackling machine. I've played against some of the best linebackers in the world & Luke Kuechly is on pace to be as good, if not better than all of them."
Follow Frank Garcia on Twitter by clicking here.
(Photo via/Sports News)
Related News
While T.J. Otzelberger has made it a priority to recruit the current UNLV roster back to Vegas, he has started to make his imprint with transfers. His latest addition is a 6-foot-8 shooter. Tulane transfer Moses Wood...

Read More
ESPN.com's Paul Gutierrez said many of the scouts will be looking for a new job following next Thursday's NFL Draft. Mike Mayock is the new GM and will be hiring his own staff of scouts. Gutierrez has...

Read More
ESPN.com's Paul Gutierrez said many of the scouts will be looking for a new job following next Thursday's NFL Draft. Mike Mayock is the new GM and will be hiring his own staff of scouts. Gutierrez has...

Read More