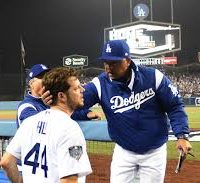 By: TC Martin
As the Boston Red Sox celebrated a World Series Championship at Dodger Stadium, Dodger fans will wonder why on earth their manager pulled numerous eye popping moves contributing to their teams demise.  The Red Sox deserved and earned their title by winning the series 4-1 but this story is about Dave Roberts for continually overthinking and mismanaging his lineup and strategy.
​Over recent years we have seen managers make mind numbing decisions that buck the trend of baseball and common sense. Whether its saber metrics or analytics, it has become ridiculous.  When Tony La Russa decided it's was 'cool" to bat a pitcher eighth, logical baseball people disagreed.  Joe Maddon followed suit by doing the same thing and then decided to use his closer earlier in games, only to see him collapse in the 9th inning. Remember Aroldis Chapman?
​Now Tampa Bay's Kevin Cash thinks its innovative to start a relief pitcher and let him get three or four outs and turn an entire game into a mosh-pit of relievers.  Enter Roberts who has taken it to a whole new level both offensively and defensively.
​Whether it's using your highest priced and most successful pitcher as a starter and closer in the same series. He is quick to pull the trigger on a starter who is rolling along even if that hurler had a no hitter going or in Saturday night's case; a one hitter.  Recent case and point, Game 4 starter, Rich Hill  was cruising along, leading 4-0 through seven innings and had given up one hit while striking out seven.  The left hander was lifted for another lefty with a couple of right handed Boston hitters coming up. After a four pitch walk from Scott Alexander, the parade of relievers continued with Ryan Madson, Kenley Jansen, Dylan Floro, Alex Wood and Kenta Madea all blowing up, resulting in a 9-6 Dodger loss.
​Even more confusing is Roberts decision to bench his best hitters.  Just because Cody Bellinger and Joc Pederson are left handed hitters, they aren't starting games in this series against a left handed starter.  Despite hitting 35 and 25 homers respectively, they will enter the game as replacements or pinch-hitters in the team's most important games.  Coupled with platooning your leadoff hitter and batting part time players third in the lineup ahead of Manny Machado makes no sense.  David Freese, who never has batted leadoff before, had that distinction the past two games, only to be replaced at some point during the contest.
​Roberts managerial moves are unconventional and haven't worked during his tenure.  Despite one of the highest payrolls in the sport, the Dodgers have failed to win a World Series since 1988.  For true baseball purists and legendary managers of the past, they must be going crazy watching these marathon games where managers routinely run out of players while making so many questionable decisions.  If this is modern age baseball, please take me back to the past.
Related News
We are only three weeks into the season, but UNLV's offense has already cracked. The Rebels rank 99th in S&P+, the lowest they have been in the Tony Sanchez era. UNLV was held to 17 points by...

Read More
After sputtering to a 17-point performance in a loss last week to Arkansas State, UNLV's offense still lacked the punch it needed to knock off Northwestern. The Rebels failed to score after halftime and lost to the...

Read More
Tony Sanchez has to make a change. Either his offense needs to rely more heavily on the run game, or he needs a new quarterback. Armani Rogers completed 8 of 23 passes against Arkansas State. It was...

Read More