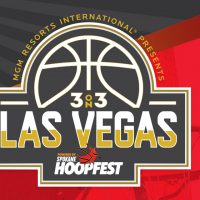 The Las Vegas 3-on-3 Basketball Tournament returned here for it's annual "Best Basketball Weekend on Earth" by MGM Resorts International and Spokane Hoopfest Association.
It was held at Las Vegas Festival Grounds October 27-28.
John Balistere of MGM Resorts Basketball Operations, Spokane Hoopfest's marketing director, Morgan Marum, and Rodney Haddix, the head coach of Findlay Prep discussed the event.
Video below.
Photo courtesy: T-Mobile Arena
Related News
San Jose Sharks defeated Vegas Golden Knights 2-1 in double overtime at T-Mobile Arena on Sunday, April 21, to tie the series 3-3. Tomas Hertl scored the game winner for the Sharks while Logan Couture scored the...

Read More
San Jose Sharks defeated Vegas Golden Knights 2-1 in double overtime at T-Mobile Arena on Sunday, April 21, to tie the series 3-3. Tomas Hertl scored the game winner for the Sharks while Logan Couture scored the...

Read More
San Jose Sharks defeated Vegas Golden Knights 2-1 in double overtime at T-Mobile Arena on Sunday, April 21, to tie the series 3-3. Tomas Hertl scored the game winner for the Sharks while Logan Couture scored the...

Read More