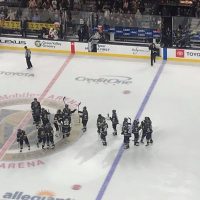 Jonathan Marchessault scored on a penalty shot in overtime to help the Vegas Golden Knights defeat Ottawa Senators 4-3 on Sunday, October 28 at T-Mobile Arena.
With the victory, their record now stands at 5-5-1.
Prior to the game, it was announced that Tomas Hyka would replace Max Pacioretty. Pacioretty suffered an injury after getting dropped by Braydon Coburn in their last game against Tampa Bay Lightning.
Minutes into the first period, Matt Duchene scored the first goal for Ottawa with assists by Ryan Dzingel and Cody Ceci.
The Senators then took advantage of a power play opportunity in the second period as Bobby Ryan scored the second goal to extend their lead 2-0 with 11:08 remaining. He was assisted by Mark Stone and Thomas Chabot.
The momentum started to shift after Alex Tuch scored his first goal of the season with less than 4:30 left in that period.
A few minutes later, Ryan Reaves scored his third goal of the season to help the Golden Knights tie the Senators.
Golden Knights head coach Gerard Gallant spoke about Reaves' goal. "Ryan Reaves is a big body and I don't think a lot of people want to get in his way when he is skating like that, going hard to the net. It was a perfect goal at a perfect time. The big guy is playing hard and playing well and he deserves some time on that power play."
Ryan Dzingel scored for Ottawa with 12:11 remaining in the third period to bring the Senators back up 3-2.
Not to be outdone, Alex Tuch scored once again for the Golden Knights to tie the game as he was assisted by Nick Holden.
Gallant spoke about Tuch's performance. "The whole line was good. Tuch played excellent, those two goals were real big, but he was skating and shooting the puck. I thought that line was outstanding tonight."
In overtime, Jonathan Marchessault's penalty shot helped Vegas walk away with the win.
Jonathan Marchessault scores OT penalty shot & @GoldenKnights defeat @Senators 4-3 #VegasBorn pic.twitter.com/la8leomEAg

— Helen Yee (@HelenYeeSports) October 29, 2018
Vegas won their final game of this five-game homestand. Marchessault spoke about the important victory after back-to-back home losses. "Obviously, I was excited but as a group we needed this game before going on this road trip. We are playing two amazing teams the next two games and we need these points."
The Golden Knights had 53 shots on goal. Marchessault also shared his thoughts on that. "Yea like I said it's not only the shots that we have, it's also the quality shots that we have. The quality needs to be better. We need to cash in on all of our chances. We just need to come back to our bases, it's about playing well defensively and we definitely need to get better from everybody, especially facing the injuries we have right now."
Gallant discussed what it means to have Marchessault on the team. "Jonathan Marchessault has a great personality. He is an easy-going guy. He has a lot of fun, but he comes to the rink and he competes on the ice. We have played 11 games and Jonathan Marchessault is a big part of our group. He has been real good ever since he has gotten here. I'm really happy for him."
He continued, "The kid came out of nowhere sort of. He earned a big contract last year because earned it and plays hard every shift. I'm really happy for the kid, he is playing really well."
NEXT GAME: Golden Knights play against Nashville Predators at 5:00p.m. on Tuesday, October 30.
—
For the post-game press conference with head coach Gerard Gallant, click here.
—
For the post-game media scrum with Jonathan Marchessault, Ryan Reaves, and Alex Tuch, click here.
At Las Vegas Sports Network, MMA legend Randy Couture spoke to Helen Yee of Eyes On The Game about PFL Playoffs in Las Vegas, fighting twice in a day, the evolution of MMA, ranking system, his top...

Read More
WBC welterweight champion Shawn Porter will be fighting IBF welterweight champion Errol Spence on Saturday, September 28. At Barry's Boxing Gym, he spoke to Helen Yee of Eyes On The Game about his upcoming fight, his karaoke...

Read More
We are only three weeks into the season, but UNLV's offense has already cracked. The Rebels rank 99th in S&P+, the lowest they have been in the Tony Sanchez era. UNLV was held to 17 points by...

Read More