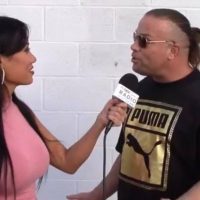 Professional wrestling superstar and legend, Rob Van Dam, also known as "RVD", headlined a comedy show at Hooters Casino in Las Vegas on November 1-3.
Throughout his illustrious career, RVD has wrestled in many promotions including the indie circuits, but is best known and praised for his time with Extreme Championship Wrestling (ECW) and World Wrestling Federation/World Wrestling Entertainment (WWF/WWE).
He has also won dozens of championships including ones in WWE, ECW, and TNA.
Prior to his comedy show, he spoke to Helen Yee of Eyes On The Game about various topics: a documentary releasing soon, moving to Vegas, his comedy gig, why he hasn't returned to WWE, ECW stories, the competitive side of the business.
RVD also discussed "old school" vs "new school" wrestling, women in WWE now, Ronda Rousey, Daniel Cormier, being trained by The Sheik, if there's animosity between he and Triple H.
Furthermore, RVD reflected on his marijuana arrest, if he regrets anything, politics in pro wrestling, his friendships, Booker T, talking to Stone Cold Steve Austin about spiritual energies, Samoa Joe, and more.
Video below.
Related News
San Jose Sharks defeated Vegas Golden Knights 2-1 in double overtime at T-Mobile Arena on Sunday, April 21, to tie the series 3-3. Tomas Hertl scored the game winner for the Sharks while Logan Couture scored the...

Read More
San Jose Sharks defeated Vegas Golden Knights 2-1 in double overtime at T-Mobile Arena on Sunday, April 21, to tie the series 3-3. Tomas Hertl scored the game winner for the Sharks while Logan Couture scored the...

Read More
San Jose Sharks defeated Vegas Golden Knights 2-1 in double overtime at T-Mobile Arena on Sunday, April 21, to tie the series 3-3. Tomas Hertl scored the game winner for the Sharks while Logan Couture scored the...

Read More