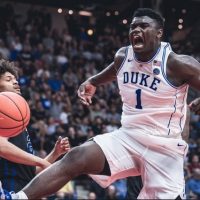 The Blue Devils crushed Kentucky in the season opener by 34.
Murray, the Director at SuperbookUSA, says bettors jumped all over Duke to win the NCAA Tournament dropping the odds from 6-1 to +250 in just one day!
Murray also talked about the devastation for the sports books because of Week 9 in the NFL. Did the state's betting parlors really lose over $8 million in one day?
Photo courtesy Duke.com
Episode 2 is almost here!! At the end of Episode 1, Jon Snow got the startling news that HE is the rightful heir to the throne of the Seven Kingdoms. Steve Cofield and Ryan McKinnell discuss Snow's...

Read More
ESPN.com's Paul Gutierrez said many of the scouts will be looking for a new job following next Thursday's NFL Draft. Mike Mayock is the new GM and will be hiring his own staff of scouts. Gutierrez has...

Read More
Who is in the driver's seat going into Game 6 on Sunday? Should fighting be outlawed in the NHL? With Tampa Bay and Calgary out, who's the best team left in the playoffs? The former NHL coach...

Read More
Bucci Mane talked about the Golden Knights taking a 3-1 lead in the series. What is wrong with Martin Jones? Why is Pete DeBoer sticking with him? Should DeBoer be on the chopping block? Buccigross also discusses...

Read More
Chuck Powell, of 950 KJR, joins Steve Cofield & Adam Hill to discuss the news surrounding the Russell Wilson contract, Seahawks, the future NHL franchise that will be in Seattle & more on Cofield & Company. ...

Read More
Current LA Kings Analyst/Former NHL player Daryl Evans joined Steve Cofield and Adam Hill to talk about the Golden Knights-Sharks series. The budding rivalry between the two teams, Joe Thornton and especially Ryan Reaves/Evander Kane. What does...

Read More
The play by play voice of the San Jose Sharks joined Steve Cofield & Ryan McKinnell on Cofield & Company to discuss the goals for San Jose in Game 4, Martin Jones & Joe Thornton. https://media.sparemin.com/embed-video/videos/c9/a2/ed/69/c9a2ed69-ce7b-4223-a4d0-15f91c869914_405345.mp4...

Read More
The NBA columnist/SiriusXM NBA host joined Adam Candee & Adam Hill on Cofield & Company to explain how to fix the mess surrounding the Lakers right now. https://media.sparemin.com/embed-video/videos/8f/11/c5/99/8f11c599-516e-4174-ba58-4f4bb646f8e9_401188.mp4...

Read More
VGK got boat raced by San Jose 5-2 in Wednesday's Stanley Cup Playoff's opener. Las Vegas callers were livid. Led by Bill in Green Valley, caller after caller said that kind of performance is inexcusable, and that...

Read More
After a terrible effort in a 5-2 loss last night, what are your expectations for the Golden Knights in the Stanley Cup Playoffs?   Adam Candee says VGK has already turned in a solid second season.  ...

Read More
The legendary ESPN anchor, Linda Cohn, hopped on with Steve and Adam Candee to preview the VGK-San Jose series as well as talk all things NHL Playoffs....

Read More
Bonner picked Virginia to win the national title. The CBS color analyst said these are two of the best defenses of the last 40 years in college basketball. A 6-foot-7 forward at Virginia in the early 70's,...

Read More
The boss of the Runnin Rebels stopped by Peter Johann Field and talked about his first week on the job. How is the roster re-construction coming along? Coach Otz is meeting with the majority of the Runnin...

Read More
The legendary WR joins Steve Cofield & Ryan McKinnell to discuss the future for the Raiders with Gruden. Brown shares his thoughts about the character of both Kyler Murray. The Notre Dame grad and Dallas resident has...

Read More
The former UNLV/NFL/AAF player joins Steve Cofield and Ryan McKinnell to discuss his experience with the AAF and The UNLV Football Program....

Read More
The CFL standout joined Steve Cofield & Ryan McKinnell to discuss the close relationship with his brother, star VGK player Ryan Reaves. Reaves is pretty vocal on social media. Cofield asked him about his developing rivalry with...

Read More
The former Tennessee Vols star joined Cofield & Ryan McKinnell to share his experience playing with Bruce Pearl at Tennessee and shares his thoughts on whether Auburn can win the entire tournament....

Read More
The FOX Sports analyst/college basketball legend joined Steve Cofield & Adam Hill to set the scene in Minneapolis for the Final Four. Brando shares his thoughts on the current climate for college coaches and ADs. Brando shares...

Read More
The UNLV football coach talked about the goals accomplished during the 15 spring practices. He told Cofield & Co. that this is the biggest, strongest and deepest team he's had over his five years at the helm....

Read More
A convenience store clerk is up on murder charges after taking down a robber who was bolting from her store with multiple cases of beer. A struggle went down outside the place of business between the robber...

Read More
The JUCO transfer picked the Runnin Rebels over SMU, Seton Hall, Hawaii and many other schools. He told Cofield & Co. why he likes UNLV coach T.J. Otzelberger so much. He's the first official commit for Coach...

Read More
Shoup joins Cofield & Adam Hill on ESPN Las Vegas to discuss the rumors regarding Reno coach Eric Musselman's coaching future. https://media.sparemin.com/embed-video/videos/fd/15/3e/6c/fd153e6c-e7d5-4ec7-a3b4-01facd3dcf53_380860.mp4...

Read More
The Mayor of Washington D.C. posted a great meme to rip Bryce Harper. During the off-season, the native Las Vegan bailed on D.C. to go sign with arch-rival Philadelphia. The town was all amped up for Bryce's...

Read More
Nguyen joins Cofield & Adam Hill on ESPN Las Vegas to discuss the Raiders future with Derek Carr following rumors that Dwayne Haskins & Kyler Murray were being scouted by the organization. https://media.sparemin.com/embed-video/videos/97/6b/dc/77/976bdc77-8668-4974-9ef5-2380a9b38b3f_379122.mp4 Photo courtesy San...

Read More
The South Dakota State University basketball star joined Adam Hill & Adam Candee to discuss his former coach/The Runnin' Rebels new head coach TJ Otzelberger. Daum explains Coach Otzelberger's strengths, style and charm on and off the...

Read More
TJ Otzelberger and Desiree Reed-Francois talk and welcome the new UNLV Runnin Rebels coach to Las Vegas....

Read More
Parrish, based out of Memphis, has witnessed one of the biggest turnarounds of the century in college basketball. Anfernee Hardaway with the help of Mike Miller led the Tigers to 22 wins and a berth in the...

Read More
Mike Grimala appeared on Cofield & Co. to talk about the latest with the UNLV Runnin Rebels search for a new head coach. Hot on the internet rumor mill today? 8 News Now's Jon Tritsch said that...

Read More
The 10 year NBA veteran joined Steve Cofield & Adam Candee to share his thoughts on the UNLV Runnin' Rebels coaching search on Cofield & Company. https://media.sparemin.com/embed-video/videos/33/8b/b5/bc/338bb5bc-62b1-48eb-8af8-741c367587a0_353603.mp4 https://media.sparemin.com/embed-video/videos/72/a8/22/bb/72a822bb-0148-4589-93e6-f61bbcf76c90_353616.mp4...

Read More
Is it 2016 all over again? When Dave Rice was fired most of the roster decided to leave for the pros or transfer to another school. Marvin Menzies was dumped on Friday, and UNLV is in the...

Read More
Matta is only 51 years old. Why isn't he coaching? A terrible back problem ended his run at Ohio State in 2017. Buckeyes insider Bruce Hooley told Cofield & Co. about Matta's final year. The coach's health...

Read More
College basketball expert Jeff Goodman predicted last week that Jason Kidd would be next coach at UNLV. Why? Kidd has a long relationship with potentially powerful booster Elaine Wynn. The former NBA susperstar has a 183-190 record...

Read More
The former Iowa State head coach has been mentioned as a possible candidate for the UNLV Runnin Rebels opening. Hoiberg was fired after three-plus years as the coach of the Chicago Bulls. He's making $5 million this...

Read More
UNLV AD Desiree Reed-Francois started her process to find Marvin Menzies' replacement last week. That included hiring Eddie Fogler's consulting company to assist in the finding the next coach of the Runnin Rebels. Plenty of fans have...

Read More
Does the former Ohio State really want to get back into coaching? Or does having his name in the UNLV coaching rumor mill simply satisfy the terms of the massive buyout he received from the Buckeyes when...

Read More
It's over after just three years. Marvin Menzies' dream job turned into his nightmare on Friday. He was fired by UNLV. DRF says the facilities are tremendous and so is the Runnin Rebels tradition. She's confident that...

Read More
Menzies got just three years to reconstruct the Runnin Rebels basketball program. This year he went 17-14 and finished fourth in the MWC. He went 48-48. Attendance at the Thomas & Mack dipped below 9k per game....

Read More
The NFL Veteran joined Steve Cofield & Adam Hill to discuss the breaking news about Odell Beckham Jr. heading to Cleveland to play for the Browns. Routt discusses what it will mean for Jarvis Landry and shares...

Read More
Steve Cofield & Adam Hill discuss the latest news about a discount big box chain essentially eliminating jobs by solely relying on self-checkout kiosks. And a local grocery store chain that is no longer accepting VISA credit...

Read More
Cofield & Adam Hill talked about Jordan Caroline's locker room meltdown following a loss versus Utah State in Logan Utah. A Reno assistant was also caught on camera screaming F-bombs in the face of a police officer....

Read More
The college basketball play-by-play legend worked with Pitino during an NCAA tournament in 2000, so he knows Slick Rick well. He says Pitino has lost his way, and can't see a way a college administration would be...

Read More
The legendary SportsCenter/NHL analyst joined Steve Cofield on ESPN Las Vegas to break down the biggest moves of the NHL Trade Deadline, Mark Stone's arrival in Vegas to play with the Golden Knights....

Read More
The legendary ESPN MLB analyst joins Adam Candee & Ryan McKinnell on Cofield & Company to discuss the latest developments and weigh in on the timeline for Bryce Harper's signing....

Read More
The Lawyer/Host Suit UP Podcast/Sports Legal Contributor with The Athletic & Forbes joined Adam Candee & Ryan McKinnell on ESPN Las Vegas to break down the latest news on the legal front for both Robert Kraft and...

Read More
The Golden Knights paid a hefty price for the 26-year-old winger. TSN 1050's Petrillo told Cofield & Co. that VGK made a wise move by dealing uber prospect Erik Brannstrom for Stone, who's already got 28 goals...

Read More
A betting analyst from PlayUSA, Jess walked Cofield & Co. through the massive upsets for the Best Actress and Best Picture awards at the 2019 Academy Awards. Glenn Close, a minus-550 favorite, was shocked by the Favourite's...

Read More
"If you're Bryce Harper to me, you're better than Manny Machado. I think you absolutely should get more than $325, especially if Manny Machado now got 10 years $300."...

Read More
The Altitude Sports Radio host joined Adam Hill & Ryan McKinnell to break down the latest on what has been happening inside the Denver Broncos organization. Kreckman talks Case Keenum vs. Joe Flacco and explains the Broncos...

Read More
The Fox Sports Radio Straight Outta Vegas host/Pregame Founder joins Adam Hill & Ryan McKinnell to break down the future for the Lakers, talks Anthony Davis trade & the sports betting expert talks about top contenders for...

Read More
The NHL legend joined Steve Cofield & Adam Candee on Cofield & Company to discuss the Vegas Golden Knights and share his thoughts on their second season. ...

Read More
The former NBA player/current ESPN analyst joined Steve Cofield & Adam Candee to discuss the pros/cons for both the Pelicans and Lakers following the NBA Trade Deadline and weighs in on the future for the Lakers. ...

Read More
A 12-year member of the Steelers, Taylor suggests that the mercurial receiver isn't the only issue Pittsburgh is dealing with on its roster. He told Cofield & Co. that Ben Roethlisberger and the star wideout need to...

Read More
The ESPN Play-by-Play analyst joined Steve Cofield & Adam Hill on Cofield & Company to talk NBA news, officiating/ref show and more. Cofield & Hill also seek Amin's karaoke expertise regarding which songs are off-limits, classics and...

Read More
The NBC Sports Bay Area reporter joined Steve Cofield & Adam Hill to discuss the bizarre reports of the Raiders playing in Birmingham or Tuscon in 2019. Bair breaks down the latest information on discussions for the Oakland...

Read More
The CBS Sports analyst joined Steve Cofield & Adam Hill on Cofield & Company to discuss the efforts The UNLV Runnin' Rebels have made in the Fight for Literacy initiative. Parrish says, "100% of the donations from this game...

Read More
The Fox Sports Radio host joined Steve Cofield & Adam Hill to talk sports betting Super Bowl LVIII. Bell shares his expertise and weighs in on the best prop bets laid out for the big game. Follow...

Read More
The head coach of the UNLV Runnin' Rebels joined Steve Cofield to break down the latest Runnin' Rebels news and discuss the upcoming opponents for his team. Menzies also talks Coaches vs. Cancer, awareness and early detection....

Read More
The legendary Al Bernstein joins Steve Cofield following a heated moment at Broner press conference earlier today. Bernstein previews the Pacquaio/Broner fight. (Photo via/BNV)...

Read More
Cofield & Adam Hill kick off the final hour of the show with the Big 5 at 5 talking Kyler Murray future, Draft Kings, Raider HQ, Matt Foley and more. The guys break down the groundbreaking for...

Read More
Cofield & Adam Hill kick off the second hour of the show talking Patriots. The guys discuss NY weatherman being fired for using racial slur on the air and Grover dropping the F bomb. During What's Trending,...

Read More
Cofield & Adam Hill kick off the show recapping the weekend of NFL action talking Antonio Brown, Raiders facility groundbreaking in Henderson. The guys talk boy genius Sean McVay and Adam swoons over him and his coaching....

Read More
Las Vegas prep legend Tate Martell is on the move again. The former Bishop Gorman QB is leaving Ohio State. This after talking trash about competing with any transfer who was thinking about becoming a Buckeye. Where...

Read More
DRF spoke about her athletes' fall semester grades plus the massive road win for the Runnin Rebels against New Mexico. Photo courtesy Getty  ...

Read More
The fighting legend joins Steve Cofield, Adam Hill & Ryan McKinnell to discuss the upcoming Pro Fighters League Finals on New Year's Eve in NYC. Couture shares his thoughts on UFC 232 happening this weekend at T-Mobile...

Read More
UFC fighter Rachael Ostovich was a recent victim of domestic violence. She'll step back into the cage on Jan. 19. That's the same night Greg Hardy will make his debut on the UFC's debut card on ESPN....

Read More
The Head of Media for The Action Network joins Ryan McKinnell & Adam Hill on ESPN Las Vegas to break down the best games to bet in Week 14 and which games to avoid. Follow Chad Millman...

Read More
RJ gave leans and likes for Jags-Colts, Steelers-Chargers and five other games. The Pregame.com CEO/Founder & Straight Outta Vegas Host joins Steve Cofield, Adam Hill & Ryan McKinnell to break down the best bets of Week 13...

Read More
The lead college football analyst for Pregame.com & Straight Outta Vegas co-host joins Steve Cofield & Adam Hill to break down the biggest games of the weekend in the world of college football. Follow Brad Powers on...

Read More
The Head of Media for The Action Network joins Steve Cofield & Adam Hill to talk about the Week 13 match-ups in the NFL and share his thoughts on which way to bet on the biggest games...

Read More
Adam Hill's family is the gift that keeps on giving to Cofield & Co. The latest story in the Hill saga is that his father has decided to flee from civilization so he's moving to New Mexico....

Read More
Jacksonville was an even money favorite to win the AFC South. Through 10 games, Doug Marrone's team is 3-7 with virtually no shot at the division title, and a miniscule chance at a playoff berth. What the...

Read More
The Pregame CEO and Founder joins Ryan McKinnell & Adam Hill to weigh in Week 11 in the NFL for sports bettors and lends his expertise on how to bet these games. For all of RJ Bell's...

Read More
The ESPN play by play analyst joins Ryan McKinnell & Adam Hill on Cofield & Company to discuss one of the biggest games of the weekend in college football: Notre Dame vs. Syracuse. Amin talks Eric Dungey,...

Read More
Related News
Episode 2 is almost here!! At the end of Episode 1, Jon Snow got the startling news that HE is the rightful heir to the throne of the Seven Kingdoms. Steve Cofield and Ryan McKinnell discuss Snow's...

Read More
Episode 2 is almost here!! At the end of Episode 1, Jon Snow got the startling news that HE is the rightful heir to the throne of the Seven Kingdoms. Steve Cofield and Ryan McKinnell discuss Snow's...

Read More
ESPN.com's Paul Gutierrez said many of the scouts will be looking for a new job following next Thursday's NFL Draft. Mike Mayock is the new GM and will be hiring his own staff of scouts. Gutierrez has...

Read More