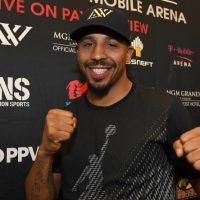 The undefeated world champion at super middleweight and light heavyweight said almost nothing will draw him back into the ring … except?
Cofield & Company's Adam Hill teased Ward with the possibility of a boxing match against former UFC champion Conor McGregor.
Ward says his handlers and family don't want him fighting again, but a payday like Floyd Mayweather got, to simply toy with McGregor, may be to tough to pass up.
Check out Andre Ward in the Contender 5.
The series' live finale goes down this Friday on EPIX at 7 p.m. PT.
He's also back on the big screen in Creed II set for release Thanksgiving weekend.
Photo courtesy Stacey Verbeek
It's that time of year when we get to really see which NFL teams look like they could go far in the playoffs. Stanford Routt is a former NFL cornerback and one of our Raiders insiders. He...

Read More
It's that time of year when we get to really see which NFL teams look like they could go far in the playoffs. Stanford Routt is a former NFL cornerback and one of our Raiders insiders. He...

Read More
It's that time of year when we get to really see which NFL teams look like they could go far in the playoffs. Stanford Routt is a former NFL cornerback and one of our Raiders insiders. He...

Read More