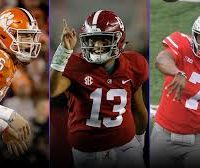 By: TC Martin
After this weekend we should have a much clearer picture of which teams will advance to the College Football Playoff. Or will we?
This is the time of year arguments are aplenty on who should be in and who should be out when it comes to the final four teams who will get to play for college football's national championship.  Conference titles are up for grabs but it's much more than that, because just winning isn't enough.  In several cases it's about who wins and by how much.  For one team its about who is not playing.
​Central Florida is one of four undefeated teams but they aren't really being considered.  Despite 24 straight wins over a two year span, UCF has a very slim chance again.  Similar to last year when they weren't invited, they decided to show the committee they belonged by  humiliating Auburn in the Peach Bowl and then throwing themselves their own championship parade on campus.  After their star quarterback McKenzie Milton suffered a gruesome knee injury last week, the committee now has an excuse to eliminate them from consideration again.
Alabama faces Georgia for the SEC title.  Georgia won this game last year in destroying Auburn and while eventually losing to Alabama in the National Championship Game 26-23, the Bulldogs outplayed them for nearly 55 minutes and aren't afraid of the Crimson Tide.  A Georgia victory on Saturday puts them in and a loss crosses them off the list.
​The most compelling game is the Big 12 title contest with Oklahoma and Texas.  This is a rematch from earlier this year when the Longhorns won the annual battle at the Texas State Fair.  Oklahoma may have only one loss but questions surround their defense.  The Sooners may have the best offense in the country but their defense is one of the worst.  If a team needs to win big Saturday, its Oklahoma.
​Clemson figures to roll over Pittsburgh in the ACC title game.  Clemson like Notre Dame last week needs to just win and they are in.  The Irish have completed their season at 12-0 and will wait to see which of the top four slots they occupy.
​Ohio State is another big favorite Saturday as they play Northwestern for the Big 10 championship.  After lackluster performances against Purdue which resulted in a blowout loss and Maryland which resulted in a miraculous come from a behind win, the Buckeyes got everyone's attention with a drubbing of Michigan last week.  Ohio State's performance this week will be heavily scrutinized.
​The committee will gather on Sunday and determine who they feel are the best four teams after closely watching these games on Saturday.  There is a likely possibility that come Monday we will have as much debate as we have now.
During ONE Championship media day in Tokyo, ONE strawweight champion Xiong Jing Nan spoke to Helen Yee about her rematch against Angela Lee, what she thinks of Zhang Weili, and more. Please note: Interview in Mandarin Video...

Read More
Tony Sanchez always pulls out a win he isn't supposed to grab. For his 2019 upset special, UNLV, a 14.5-point underdog, went to Nashville and crushed Vanderbilt. The biggest advantage UNLV had was on the sidelines, as...

Read More
Throughout the Tony Sanchez era, UNLV has scored points. The offense has never been the reason UNLV failed to make a bowl game. But after a 31-13 loss to Boise State, UNLV has been held under 20...

Read More