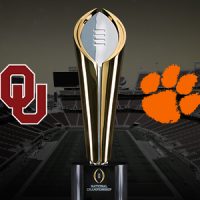 By: TC Martin
It is still up for debate who are the four best college football teams but the playoff committee has spoken, and with it's annual controversy starting to silence, we can now get down to crowing a champion.
Alabama showed some vulnerability in a dramatic come from behind victory over Georgia in the SEC title game but thanks to Jalen Hurts, the Crimson Tide are back at the top.  Alabama will square off against fourth seeded Oklahoma while Clemson is the #2 seed and will face #3 Notre Dame. Both games will be played on December 29th.   Here is quick first look at the match-ups.
​Oklahoma vs Alabama (Orange Bowl) 
We have seen these teams here before but just not against each other.  Oklahoma is 0-2 in the national semifinal, losing to Clemson 37-17 in 2015 and last year to Georgia 54-48. while Alabama has made it a ritual in playing in the semifinals or championship game each year since 2014.
​It was questionable whether the Sooners would get invited with the 91st ranked defense in the country.  The committee felt it's offense led by Heisman Trophy favorite Kyler Murray was reason enough to select them over Georgia.  This may backfire in the committee's face because this has all the makings of a blowout.  It doesn't matter if it's Hurts or Tua Tagovailoa leading the Tide, they have too many weapons on both sides of the ball.  While Alabama's has won every regular season game by at least 22 points, the defense is #2 nationally ranked in defensive efficiency.
​Notre Dame vs Clemson  (Cotton Bowl) 
There was no debate about these two teams getting in the playoff as both are undefeated and deserving.  These two teams last met in 2015 in a rain-soaked regular season slug-fest that came down to the final play.  Notre Dame fell short on a 2-point conversion losing to the Tigers 24-22.  The Irish outplayed and outgained Clemson on that day but fell victim to four costly turnovers.
​The teams are much different now as Notre Dame has a solid quarterback in Ian Book who can make all the throws in leading a balanced offense while Clemson relies on a power running game and has a freshmen signal caller in Trevor Lawrence.  Both defenses are rock solid and this contest will come down to the team that can produce the most stops and cause turnovers.  Clemson is right there with Alabama as far as experience and talent but this game will tell us a lot about the Tigers and the Irish.
During ONE Championship media day in Tokyo, ONE strawweight champion Xiong Jing Nan spoke to Helen Yee about her rematch against Angela Lee, what she thinks of Zhang Weili, and more. Please note: Interview in Mandarin Video...

Read More
Tony Sanchez always pulls out a win he isn't supposed to grab. For his 2019 upset special, UNLV, a 14.5-point underdog, went to Nashville and crushed Vanderbilt. The biggest advantage UNLV had was on the sidelines, as...

Read More
Throughout the Tony Sanchez era, UNLV has scored points. The offense has never been the reason UNLV failed to make a bowl game. But after a 31-13 loss to Boise State, UNLV has been held under 20...

Read More