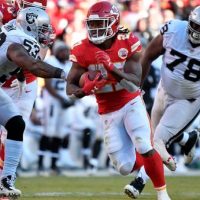 Former NFL Wide Receiver for 10 seasons, Mike Pritchard understands the cold reality of the League. He's seen players come and go, as well as, knowing certain organizations will give troubled players a second chance…and here we are with Kareem Hunt and the Raiders.
The 23 year old Running Back was cut by the Chiefs after surveillance revealed he struck and kicked a 19 year old woman at a hotel in Cleveland back in February.  The team and league didn't pursue it 9 months ago but now arguably the most explosive running back is somewhat available.  Should the Raiders continue their long history of acquiring players who have worn out their welcome with other teams only to become legends with the Silver and Black?
Pritch joined The Press Box Morning Show with Clay Baker and Ryan McKinnell on how the league bungled this and how the Raiders could fit into the picture.
The perception of the Raiders has changed significantly over the last couple of weeks, from a rough start early in the season, to being considered for a playoff run. Chris Townsend is a sideline reporter for the...

Read More
The Pro Fight League playoffs begin this Friday, October 11th right here in Las Vegas. We caught up with former MMA fighter Yves Edwards on Cofield & Co. to discuss the upcoming event and get some of...

Read More
It's week 7 in college football, and there are some big games this weekend. Aaron Torres brings us his college football insight every other Wednesday on Cofield & Co. He said he's curious about Michigan St. but...

Read More