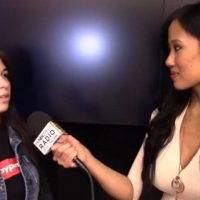 UFC strawweight Claudia Gadelha (16-3 MMA) will be fighting Nina Ansaroff (9-5 MMA) at UFC 231 on Saturday, December 8 in Toronto.
Gadelha is coming off a split-decision victory over former UFC strawweight champion, Carla Esparza at UFC 225 in June.
At the UFC Performance Institute, she spoke to Helen Yee about her upcoming fight with Ansaroff, and shares an embarrassing story about when she fought in Canada years ago.
Video below.
Related News
T.J. Otzelberger landed his second commitment in the the 2020 recruiting class, as Isaac Lindsey pledged his services to UNLV. Lindsey is a 6-foot-3 guard out of Mineral Point, Wisconsin. He is an unranked recruit by 247...

Read More
"You all live here, so you know it's awesome." William Karlsson loves Las Vegas. He's fallen in love with the city that made him a superstar. Don't believe me? That's ok, take a look at his new...

Read More
By: TC Martin The Aces defeated the defending champions, Settle Storm Tuesday night amid a barrage of turnovers, missed shots and overall sloppy play.  A win is a win but Bill Laimbeer was embarrassed and disturbed on...

Read More