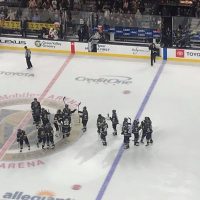 Vegas Golden Knights defeated Washington Capitals 5-3 on Tuesday, December 4 at T-Mobile Arena.
Ryan Reaves scored the first goal of the night with assists by Cody Eakin and Oscar Lindberg.
However, the night ended quickly for Reaves as he was ejected after hitting Tom Wilson late in the second and Wilson was out with an upper-body injury.
Tom Wilson hurt after blindside hit from Ryan Reaves pic.twitter.com/xsrs7LSMLd

— Pete Blackburn (@PeteBlackburn) December 5, 2018
Golden Knights head coach Gerard Gallant spoke about the hit and ejection. "Well, I mean I think we all seen the hit and the video. It's a clean hit, there is nothing wrong with the hit. Unfortunately, a player got hurt, but it was a clean hit."
Jakub Vrana scored his first of two goals in the game for the Capitals in the first period. He was assisted by Brett Connolly.
In the second period, Alex Ovechkin scored his 20th goal of the season which brought the Capitals up 2-1.
However, momentum shifted in the third period after Pierre-Edouard Bellemare and Cody Eakin both scored within 16 seconds of one another. It marked Bellemare's fourth goal and Eakin's 11th of the season.
The Golden Knights held onto the brief lead until Jakub Vrana scored again for Washington with 8:20 left in the game to tie the score.
With 1:24 remaining, Nate Schmidt scored his first goal of the season and scored on his former team which gave Vegas the lead once again.
Then, Schmidt scored an empty-net goal with 6.9 seconds left on the clock to help the Golden Knights with the win.
Schmidt spoke about his two goals against his former team. "Yes, our power play hadn't done didley squat really all night. It was just something Shea and I talked about that if I get some more speed and pushed them back a little bit hopefully it will open something for somebody else and then luckily it opened up a little bit for myself there. It felt good, it really did."
Cody Eakin discussed what this win meant for the team. "It was a good test. A good challenge for us, measuring stick, or whatever you want to call it. I think we know we have it in here. Now we're bringing it and now maybe it fuels the fire a little bit. Hopefully we can keep it going."
NEXT GAME: Vegas Golden Knights will host Chicago Blackhawks on Thursday, December 6 at 7:00p.m.
Related News
Who is in the driver's seat going into Game 6 on Sunday? Should fighting be outlawed in the NHL? With Tampa Bay and Calgary out, who's the best team left in the playoffs? The former NHL coach...

Read More
Al Iaquinta (14-4-1 MMA) will be fighting Donald Cerrone (35-11, 1 NC MMA) at UFC Fight Night 151 on May 4 in Ottawa. Iaquinta is coming off a rematch victory over Kevin Lee in December. At Serra...

Read More
Al Iaquinta (14-4-1 MMA) will be fighting Donald Cerrone (35-11, 1 NC MMA) at UFC Fight Night 151 on May 4 in Ottawa. Iaquinta is coming off a rematch victory over Kevin Lee in December. At Serra...

Read More