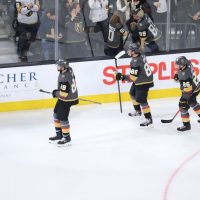 Vegas Golden Knights defeated New York Rangers 4-2 on Tuesday, January 8 at T-Mobile Arena.
They have now won seven games in a row and are tied with Calgary at 58 points.
Golden Knights head coach Gerard Gallant spoke about his team's win streak. "I'm not one to make excuses, but we had a lot of injuries early on in the season and a really tough schedule early on in the season. We had to do a lot of traveling and I think that caught up to us a little bit, but we fought through that."
He elaborated. "We know we are a good hockey team and we have played really good hockey lately, so when you get players like Nate Schmidt and Paul Stastny back, they were out for long term. Max Pacioretty missed a number of games. So, there is a lot of guys that have been in and out of our lineup and I think we are getting some chemistry, but the guys are competing hard and playing hard."
"I said it early in the year, it usually takes 30 players in your roster to make a good hockey club and that's what we have been using. We have been using a lot of different guys."
In the first period, Cody Eakin scored the first goal of the night and his 13th goal this season for Vegas with 3:58 remaining. He was assisted by Alex Tuch and Jon Merrill.
Gallant spoke about the importance of Jon Merrill stepping in for Colin Miller. "He's doing a great job and I think he's playing great hockey for us. Big time, he's stepping in and playing really solid hockey. I think tonight he played real well, but I liked him the last number of games. So he was really solid and moves the puck well but I really liked him a lot."
With 12:54 left in the second period, Brandon Pirri continued his impressive season with his seventh goal which brought the Golden Knights up 2-0. He was assisted by Max Pacioretty and Nate Schmidt.
Pirri discussed how they handled the Rangers' pressure. "When we play our game we are fore-checking really well and not giving them the time and space. We break pucks out of our own so easy that's something we try to do. I think there are break downs here and there, they had some possession in our zone but for the most part I thought we played really well."
Jonathan Marchesasult added another goal for the home team with 1:07 remaining in that period.
Marchessault spoke about them having three shooters on the top line. "Obviously, it is unfortunate when Pirri goes down, he's a great player for our team. With a guy like Pacioretty, you need to take advantage of his skill and his ability to shoot the puck. He is a good skater and he plays it right away and he plays exactly to the identity of our team. That is one thing for our team, whoever we play with we have gifted players. We have a lot of talent and we have a lot of hard working guys here."
In the third period, Mika Zibanejad scored the first goal of the game for the Rangers with assists by Mats Zuccarello and Chris Kreider.
Ryan Carpenter then scored an empty netter for Golden Knights with 1:20 left. He was assisted by Pierre-Edouard Bellemare and Paul Stastny.
Jesper Fast scored the final goal for New York.
Marc-Andre Fleury shared his thoughts on the best aspect of the game. "I think our consistency throughout the game. I thought we came out strong and skated a lot and skated fast. I thought we pushed back and played our game. We played simple, we didn't put our defense in anything crazy. Our penalty kill was good and I think it worked out for us."
—
Golden Knights record now stands at 27-15-4.
—
Vegas Golden Knights will host San Jose Sharks at 7:00 p.m. on Thursday, January 10 at T-Mobile Arena.
Two-division ONE champion Aung La Nsang defended his light heavyweight title against Brandon Vera in Tokyo during ONE Championship: ONE Century. Afterwards, he spoke to Helen Yee of Eyes On The Game about his win. Video below....

Read More
In Tokyo, ONE atomweight champion Angela Lee defeated Xiong Jing Nan via fifth-round submission to retain her title during ONE Championship – One Century. Afterwards, she spoke to Helen Yee of Eyes On The Game about her...

Read More
Demetrious Johnson defeated Danny Kingad by unanimous decision at ONE Championship: ONE Century to win the flyweight world grand prix title. Afterwards, he spoke to Helen Yee about his win. Video below....

Read More