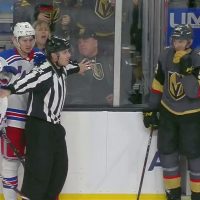 It's beautiful enough that the Vegas Golden Knights are in the midst of a seven game win streak which places them near the top of the Pacific division after a slow start to the first half of the season.
Marc-Andre Fleury is an All Star. Jonathan Marchessault should be one.
Hockey life in the desert is good.
What could make it any better? The Golden Knights' slugger Ryan Reaves putting those damn hands on the New York Rangers' Adam McQuaid for taking forward Max Pacioretty out of his skates earlier in the game, that's what.
Pacioretty takes a big lick from Adam McQuaid. pic.twitter.com/p8kiPRzMvu

— Ryan Quigley (@RP_Quigs) January 9, 2019
Yes, the hit is clean. Yes, it's a part of hockey. But seeing Reaves, all 6'1″ 225-lbs of him, do his damn thing is simply an art in itself.
A heavyweight slug fest in Vegas tonight. McQuaid vs. Reaves I.#NYR @GoldenKnights pic.twitter.com/mkEmUv0sqF

— MSG Networks (@MSGNetworks) January 9, 2019
Oh, Reaves also has a career-high 8 goals this season. Icing on the cake.
During ONE Championship media day in Tokyo, ONE strawweight champion Xiong Jing Nan spoke to Helen Yee about her rematch against Angela Lee, what she thinks of Zhang Weili, and more. Please note: Interview in Mandarin Video...

Read More
Tony Sanchez always pulls out a win he isn't supposed to grab. For his 2019 upset special, UNLV, a 14.5-point underdog, went to Nashville and crushed Vanderbilt. The biggest advantage UNLV had was on the sidelines, as...

Read More