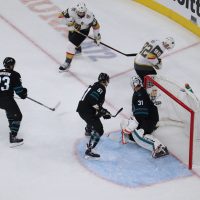 After winning the last seven straight games, Vegas Golden Knights fell to division-rival San Jose Sharks on Thursday, January 10 at T-Mobile Arena; the final score was 3-2.
Golden Knights head coach Gerard Gallant spoke about the game. "Yeah, I liked our game we played good hockey and we had a lot of opportunities. They got a couple of breaks, they worked hard, they played a good structured game."
He continued. "Like I said, they get three and we get two, but I thought we battled hard and played pretty well. We made a couple of mistakes and that cost us goals. Overall, I thought we played a good game. "
Vegas got off to a quick start as Tomas Nosek scored 1:34 into the first period. He was assisted by Ryan Reaves and Brayden McNabb.
In the second period, Tomas Hertl scored for San Jose with 5:55 to go. That marked his 16th goal of the season.
In the third period, Jon Merrill scored his first goal of the season with 17:44 remaining. He was assisted by Brandon Pirri and Alex Tuch.
"Yeah, Pirri made a nice play. Pulled up and found me and I just ripped it and happy to see it go in." Merrill said, about his first goal this year.
Gallant spoke about how Merrill has been playing. "He has played really well lately. I guess he is in a routine of playing a lot of hockey right now, so I really like what he is doing for us."
Fleury added, "The guy has been working hard in practice and glad he got a goal for us."
The momentum started to shift to the Sharks as Melker Karlsson scored and tied the game with assists by Brent Burns and Kevin Labanc.
Less than 40 seconds later, Joonas Donskoi scored his 14th goal of the season and the game winner for the Sharks. He was assisted by Tomas Hertl and Evander Kane.
Jon Merrill spoke about moving past the loss. "We like to get this out of our minds quickly and, like I said, get back to work coming into Chicago."
—
Golden Knights record now stands at 27-16-4.
—
NEXT GAME: Golden Knights will play at Chicago Blackhawks at 5:30 p.m. on Saturday, January 12.
—
Photos from the game below.
In Phoenix, Arizona, Sean O'Malley spoke to Helen Yee about grappling at Quintet Ultra, updates on his UFC return, Jose Aldo's bantamweight debut, Henry Cejudo, Colby Covington vs Kamaru Usman, Jorge Masvidal vs Nate Diaz, and possibly...

Read More
UFC middleweight Jared Cannonier defeated Jack Hermansson via second-round TKO on September 28. Cannonier is now 3-0 in the UFC middleweight division with all three middleweight victories coming by stoppage. At The MMA Lab, Cannonier spoke to...

Read More
At Xtreme Couture, MMA legend Randy Couture spoke to Helen Yee about Stipe Miocic and Daniel Cormier. Video below....

Read More