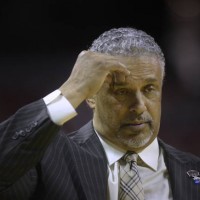 For the third straight game UNLV fell well short of not only winning, but providing a competitive game. This time it was Utah State delivering the knockout blow in a 82-65 loss for the Runnin' Rebels.
UNLV's previous two games also saw 17-point losses to both San Diego State and Nevada. Add in the Utah State loss and the Rebels have lost the last three games by  a combined 51 points.
In the last 120 minutes of basketball, UNLV has led for a total of 18 seconds.
This comes off the heels of a promising 5-1 start to Mountain West play. But those five wins came against the weakest teams in the Mountain West. Now that UNLV has played teams in the top half of the conference, they have been exposed.
The Rebels were continually lost on defense. They seemingly had no plan against Utah State's off ball screens, which resulted in open shots for the Aggies. Utah State shot 49.2 percent in the game.
The Rebel offense struggled to get quality shots, but even when they did they couldn't convert. UNLV was just 10 of 21 on layups and dunks. Overall, UNLV shot 36.8 percent.
It doesn't get easier for UNLV, as a road trip to Boise State looms on Wednesday.
Related News
T.J Otzelberger took the UNLV job with the goal of building a fence around Las Vegas. So far, so good. Last week, the first year Runnin Rebels coach landed another commit from a Las Vegas local in...

Read More
T.J Otzelberger took the UNLV job with the goal of building a fence around Las Vegas. So far, so good. Last week, the first year Runnin Rebels coach landed another commit from a Las Vegas local in...

Read More
Las Vegas got a big win today over a formidable opponent, the Minnesota Lynx, to improve to 12-6. A'ja Wilson's absence was felt, especially in the 2nd half, but the ladies pulled it together for a much...

Read More