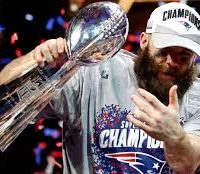 By: TC Martin
We will continue to hear the term "Dynasty" for at least one more year as long as Robert Kraft, Bill Belichick, Tom Brady, Julian Edelman and Rob Gronkowski stay together.  Many fans outside of New England don't like it but what's not to like?  Seriously!
I understand passionate fan bases love their team and hate all others but at some point and time maturity and common sense has to come into play in these fans minds and souls.  We are in a time where two teams dominate the big three sports leagues.  The Golden State Warriors and New England Patriots are superior in their respective leagues and fans need to relax and enjoy what we all are witnessing because we probably aren't going to see anything like it in our lifetime again.
With the Patriots silencing the Rams 13-3 in Super Bowl LIII, it makes it six titles in the last 18 years for Kraft's dominant franchise and three in the last five years.  In both the NFL and NBA, each league is designed to create parity like never before. The results we are seeing with these teams is an amazing accomplishment to say the least.
​Many counted out the Patriots at different points of the season.  They will point to the fact that they lost five games, all to teams that didn't make the playoffs.  So what?  Like the Warriors, the Patriots don't always look motivated in regular season games and they always get the opponents best shot.  But when the post-season arrives, its game on.
​This wasn't more evident in Sunday's game as New England's defense held the high octane Rams offense to a Super Bowl low of three points.  That is saying something in the 53 game history of this title game.  The disparity between Brady and third year quarterback Jared Goff turned out exactly how it was predicted as well as Belichick and second year coach Sean McVay.
Experience was a huge factor and despite the talent the Rams have on both sides of the ball, this game was won by the team that was better prepared for the big stage and who is usually unfazed by any circumstances.  For those that don't like it, at least respect it and maybe over time you will come to appreciate the greatness.
Related News
Liz Cambage is arguably the best female basketball player in the world and is now a member of the Las Vegas Aces.  She sat down with TC Martin in a very open and honest conversation to tell...

Read More
Liz Cambage is arguably the best female basketball player in the world and is now a member of the Las Vegas Aces.  She sat down with TC Martin in a very open and honest conversation to tell...

Read More
Liz Cambage is arguably the best female basketball player in the world and is now a member of the Las Vegas Aces.  She sat down with TC Martin in a very open and honest conversation to tell...

Read More