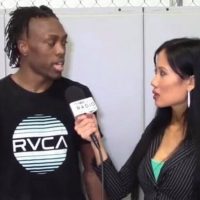 UFC 234 takes place this Saturday, February 9 in Melbourne, Australia.
UFC lightweight, Jalin Turner, will be fighting Callan Potter. Turner made his UFC debut at UFC 229 on October 6, 2018.
At RVCA MMA Gym, Turner spoke to Helen Yee of Eyes On The Game about his upcoming fight, UFC debut, the lightweight division, and more.
Video below.
Related News
The 2019 Road to Wimbledon for Men They say that Father Time is undefeated and that eventually age is the downfall of every athlete. Apparently Roger Federer isn't ready to give into that theory. Federer just won...

Read More
The 2019 Road to Wimbledon for Men They say that Father Time is undefeated and that eventually age is the downfall of every athlete. Apparently Roger Federer isn't ready to give into that theory. Federer just won...

Read More
Keith Glass has an amazing story on how he became an NBA agent of the 7 foot white backup centers of the NBA back in the day.  He just released his new book "7 Foot man Eating...

Read More