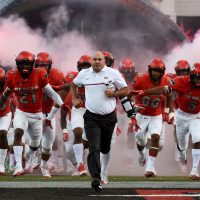 In 2018 UNLV welcomed a new defensive coordinator in Tim Skipper. After three years of Kent Baer leading one of the worst defensive units in the Mountain West, Tony Sanchez needed to make a change.
But the new leadership didn't help. Under Skipper's first season, UNLV surrendered 37.3 points per game, the most in the Mountain West. And more than any season under Baer.
Losing quarterback Armani Rogers for six games hurt the Rebels chances at a bowl game, but the bigger problem plaguing the Sanchez era has been the defense. UNLV is one of two Mountain West programs (Hawaii) to allow at least 30 points per game over the last four seasons.
So with a bowl or bust season laid out by athletic director Desiree Reed-Francois, Sanchez has gone all in on the quick fix in his 2019 recruiting class.
The Rebels will welcome in seven junior college transfers on the defensive side of the ball. Guys that will be expected to make an immediate impact at every level. There are three defensive lineman, one linebacker and three defensive backs in the class coming from the junior college ranks.
The headliner, Vic Viramontes, signed in December. Viramontes was a four-star quarterback out of high school. He signed with Cal but transferred before playing a game. After a season at Riverside Community College, he made his way to Minnesota. But he only lasted through the spring before transferring back to Riverside and switching to linebacker.
When Sanchez was asked about the possibility of Viramontes playing quarterback at UNLV, he shut it down.
"No," Sanchez said. "He is here to play linebacker. Armani Rogers is our quarterback."
Viramontes leads the UNLV recruiting class as the highest rated defensive recruit in school history, according to 247 Sports.
Added to the junior college transfers, UNLV has five high school signees on the defensive side of the ball, all rated as three stars. They may not be in the quick fix timeline like the junior college transfers, but the depth on defense should be improved.
The bigger problem yet to be figured out is the talent. UNLV has improved its depth every season, but the overall talent level has yet to rise.
OFFENSIVE TRANSFERS
UNLV added former Cal and Bishop Gorman running back Biaggio Ali Walsh as a walk on earlier this year. But the Rebels missed out on a graduate transfer to add to the backfield.
Former BYU back Riley Burt visited UNLV in January, but ultimately decided to use his final year of eligibility at Utah State.
The Rebels won't have to face Burt in 2019, but running back is the only spot on offense where the majority of last year's production won't be returning.
UNLV did land a graduate transfer at wide receiver in Jordan McCray from South Alabama. McCray had 29 catches for 273 yards and four touchdowns last season. The Rebels return four wide receivers that posted more than 273 yards a season ago.
CLASS RANK
247 Sports currently has UNLV listed as the 7th best class in the Mountain West, but their database is not fully updated. Though, UNLV likely won't rise much higher than fifth. 
The Rebels have added 11 three-star recruits in this class. Every Mountain West school has at least 10, and Utah State leads the way with 19. Boise State has 14 three stars and is the only school to land any four stars; the Broncos grabbed three.
Overall UNLV has added 21 players, giving them four more scholarships to pass out. 
"It's the first time we've had the luxury of holding a few scholarships back after signing day, which gives us a chance to go through spring and then evaluate where we are at and where we may need any more depth," Sanchez said.

Related News
Despite the Mountain West Preseason Football poll which projected UNLV to finish in 5th place inside the West Division, only above San Jose State,  Head Football Coach Tony Sanchez doesn't appeared to be upset by the low...

Read More
It's that time of the year again when the Mountain West holds it's annual Football Media Day in Las Vegas and hope springs eternal for every team, as well as, for Commissioner Craig Thompson.  For nearly 21...

Read More
UNLV was without an apparel deal for 52 days, but the Rebels will be sticking with Nike. The school announced a new 3-year deal worth $9 million in product. The new deal has no cash value. Athletic...

Read More