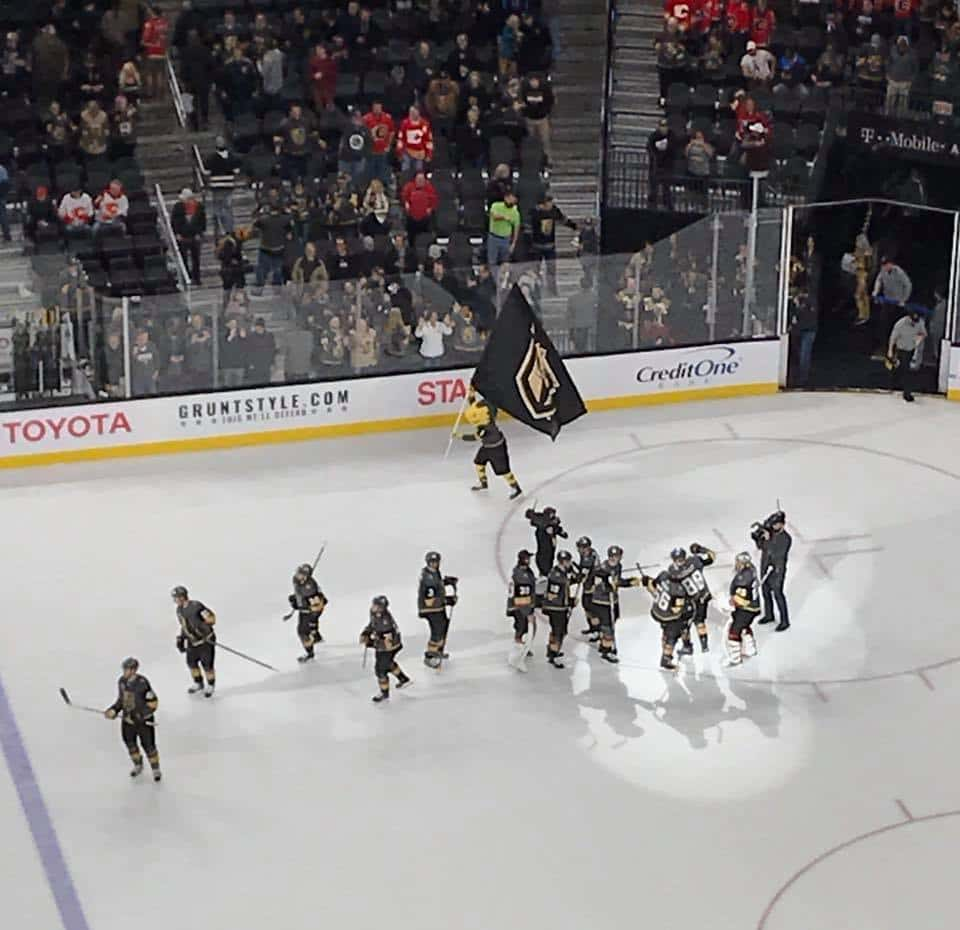 Vegas Golden Knights shut out Vancouver Canucks 3-0 on Sunday, March 3 at T-Mobile Arena.
The Golden Knights are coming off back-to-back shutout wins.
Marc-Andre Fleury hasn't allowed a goal in 168:43 of game action, which goes back to the game on February 26 against Dallas Stars. That's the longest scoreless period of his career.
Ryan Carpenter, Max Pacioretty, and Reilly Smith scored the three goals for Vegas.
After the game, Golden Knights head coach Gerard Gallant spoke about their defense limiting shots. "I think our defensive game was outstanding today. It was probably the best all year. Like I said, we had a lot of jump today, we played really good hockey. We stayed with it. It was a consistent 60 minutes playing defense first and getting a lot of good scoring opportunities because of it."
He also discussed Ryan Carpenter's play after returning from injury. "Carpenter doesn't care where he plays, he just wants to play, and he does a job for us. He's a great penalty killer, he works hard on the defensive game and that line was excellent today. They caused a lot of turn overs. They got a lot of scoring chances and it's good to see those guys get rewarded, for sure."
Ryan Carpenter spoke about his goal. "It feels good anytime our line can contribute. It seemed like we were getting a lot of chances and after not scoring in the first period. It would have been nice to have some more but we just kind of stuck to the game plan for the rest of the game and it was nice to get rewarded."
Gallant spoke about Mark Stone's impact. "We're happy to get him. Obviously, it was a great trade addition for our team and moving forward with him so far so good. We're 4-0 and we know he's a great hockey player. He's getting used to our team and getting to know our members. It's a lot easier when you're winning four in a row instead of losing four in a row."
Marc-Andre Fleury added, about Stone. "I think he is a smart player. I don't think he is the fastest guy on the ice, but he is always in the right spot, long sticks and focuses at the right time. I think he creates a lot of turnovers for us and he fits right into the team. His linemates are able to come and attack quickly and then create offensively. I think it all starts with those defensive plays and then you do so well offensively."
Max Pacioretty spoke about the game. "We just played a very good game. We're four in a row now but what is really nice is that we are playing the right way, and everyone is contributing. It feels good when you have a victory like that because it gets everyone feeling good about themselves. Defense did a great job of making sure Marc-Andre Fleury saw the chances that they did have, and it was just overall a good group effort."
—
Vegas Golden Knights record now stands at 36-26-5.
NEXT GAME: Golden Knights will host Calgary Flames at 7:30 p.m. on Wednesday, March 6 at T-Mobile Arena.
Agree or disagree, this list was compiled based on impact on the franchise. Could have been by the value of where the Raiders picked (a 5th rounder who shined is going to be raised up higher than...

Read More
Here are some links to resources that may help you stay informed and knowledgeable. https://nvhealthresponse.nv.gov/ https://www.cdc.gov/coronavirus/2019-ncov/index.html www.southernnevadahealthdistrict.org/coronavirus. https://sites.google.com/nv.ccsd.net/covid-19updates/home#h.au7wl6jpawt9 Also if you are able to help, threesquare is doing great work here locally in...

Read More
Daren and Ryan had a chance to speak with head coach of the Golden Knights Pete DeBoer on Tuesday afternoon about what the shortened training camp and season may look like. He also talks about the 2...

Read More