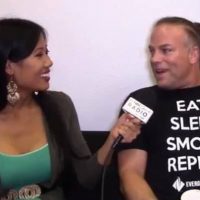 Professional wrestling superstar and legend, Rob Van Dam, also known as "RVD", released his documentary, Headstrong, on February 19.
Throughout his illustrious career, RVD has wrestled in many promotions including the indie circuits, but is best known and praised for his time with Extreme Championship Wrestling (ECW) and World Wrestling Federation/World Wrestling Entertainment (WWF/WWE).
He has also won dozens of championships including ones in WWE, ECW, and TNA.
RVD spoke to Helen Yee about his emotional documentary which takes the audience in-depth into his life. He also opened up about CTE in professional wrestling, medical insurance, and advice to professional wrestlers about health.
Furthermore, RVD reflected on a comment Vince McMahon told him, the WWE Hall of Fame and what it would mean to him to be inducted.
Video below.
Related News
UFC middleweight Marvin Vettori (12-4-1 MMA) will fight Cezar Ferreira (13-7 MMA) on July 13 at UFC on ESPN+13 in Sacramento, CA. At Kings MMA, Vettori spoke to Helen Yee about his return to the octagon, Cezar...

Read More
UFC middleweight Marvin Vettori (12-4-1 MMA) will fight Cezar Ferreira (13-7 MMA) on July 13 at UFC on ESPN+13 in Sacramento, CA. At Kings MMA, Vettori spoke to Helen Yee about his return to the octagon, Cezar...

Read More
UFC middleweight Marvin Vettori (12-4-1 MMA) will fight Cezar Ferreira (13-7 MMA) on July 13 at UFC on ESPN+13 in Sacramento, CA. At Kings MMA, Vettori spoke to Helen Yee about his return to the octagon, Cezar...

Read More