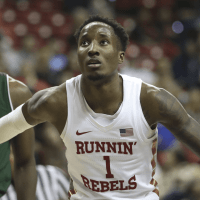 The Rebels led by as many as 18 points in the second half, but a furious charge from Colorado State, saw UNLV in a fight to the end.
With 2:20 to play an Adam Thistlewood three pointer gave Colorado State their first lead of the game. But UNLV scored the next nine points to re-establish control. In the closing stretch, Noah Robotham helped seal the game with this alley oop to Mbacke Diong
Can alley oops be daggers? pic.twitter.com/rIYuF32QCB

— Tyler Bischoff (@Bischoff_Tyler) March 9, 2019
The Rebels also got a late three from Kris Clyburn to help put the Rams away. Clyburn had a hot night, as he drilled all six of his triples and had 20 points on 7 of 8 shooting overall.
Offensively, it was a story of two halves for Clyburn's teammates. In the opening 20 minutes, the Rebels could not miss, as they shot 57 percent. But the second half saw UNLV let Colorado State back in the game with just 32 percent shooting.
The Rebel offense struggled getting to the rim and relied on the inefficient mid-range jumper throughout this game. UNLV took just 11 layups or dunks while launching 21 mid-range jumpers.
UNLV made 9 of 11 shots at the rim and just 7 of the 21 mid-range shots. Those mid-range shots were falling int he first half, as UNLV hit 6 of 10. But the final 20 minutes saw UNLV his just 1 of 11 mid-range shots.
This was one of UNLV's best defensive performances of the Mountain West season. The 0.938 points per possessions allowed is the fifth best mark of conference play. The Rams two best players, JD Paige and Nico Carvacho combined for 29 points, but they shot just 12 of 33.
Next up for UNLV is the Mountain West Tournament, where they will face off with San Diego State in the quarterfinals.
The final Mountain West record of 11-7 for UNLV is the best mark for a Rebel team since 2011.
Eric Metcalf had a 13-year NFL career because he was ultra productive and didn't rock the boat. The former star with the Browns and the Falcons doesn't understand what's gone wrong with Antonio Brown. In the 1990's...

Read More
It has been a crazy Week 3 in the NFL, on and off the field leading up to a packed Sunday lineup. Fox Sports Radio host RJ Bell gave Cofield & Co. his take on Nevada's new...

Read More
Notre Dame's college playoff hopes sink this weekend or it legitimately leap right into the conversation based on the performance against Georgia. Pregame.com's Brad Powers joined Cofield and Company for his Thursday CFB spot. He gave us...

Read More