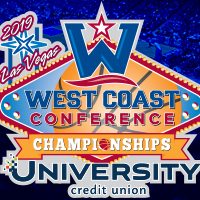 San Diego and Pepperdine shocked BYU and San Francisco respectively to both make unlikely appearances in the semifinals of the WCC Tournament. Both teams got great play from their stars to pull upsets on Saturday night at the Orleans Arena. The Toreros and Waves were both playing their third game in three nights and will enjoy a day off before stepping back into the court Monday night.
In the first game Pepperdine rocked USF 89-72 and came in as an eight point underdog but that didn't stop them from jumping out to an early lead and never looking back against the Dons of San Francisco. The eighth seeded Waves were led by their star player Colby Ross who had 26 points and couldn't miss from behind the arc. Ross contributed with nine assists as well. Pepperdine beat Pacific and Loyola Marymount to reach the quarters and played maybe their best game of the tournament never allowing San Francisco to get into the game. The Waves led by their head coach Lorenzo Romar will take on the number one team in the land Gonzaga Monday night at six pm at the Orleans Arena.
In game two the upset was never really in doubt as San Diego jumped out to an early 13-0 lead over BYU and made it look easy against the three seeded Cougars as they rolled 80-57 and it wasn't even that close. San Diego defensively shut down the high powered Cougar offense holding them to six FG's in the first half. BYU didn't help themselves going 7-14 from the FT line in the half either. The Toreros led 46-19 at the break. BYU opened the half with a 6-0 run but San Diego was just too good as they forced BYU into missed shots, turnovers and bad possessions. San Diego was led by senior Isaiah Piniero who at one point in the 2nd half had as many points as the BYU team. The Toreros pushed the lead to 44 before calling off the dogs. BYU closed the game on a 14-1 run as San Diego played their end of the bench for the final six minutes of the game. After the game Cougar coach Dave Rice complained about the format of the tournament in regards to San Diego playing in the arena for the third time and BYU only having 20 minutes to warm up on these baskets. He also was unhappy with the unbalanced schedule which ironically the Cougars helped create when they left the Mountain West for the WCC. San Diego will now play Saint Mary's on Monday at 8:30 PM.
pic courtesy of Orleans.com
Vegas Golden Knights shut out Vancouver Canucks 3-0 on Sunday, March 3 at T-Mobile Arena. The Golden Knights are coming off back-to-back shutout wins. Marc-Andre Fleury hasn't allowed a goal in 168:43 of game action, which goes...

Read More
Dan and the Danettes talk 3 on 3, eating, and take your calls....

Read More