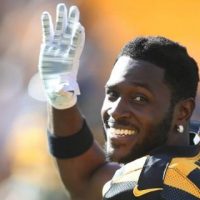 ESPN NFL Nation Raiders Reporter Paul Gutierrez joined The Press Box Morning Show with Ed and Clay and discussed the Antonio Brown trade from the Steelers to the Raiders and the ramifications that surround the move. Brown, 31, is easily recognized as a top-10 player in the NFL that brings enough Diva-led baggage, that even Raiders HOF Howie Long would characterize as a "Knuckle Head" to which Paul explained, may not be so bad after all.
"When you look at a roster, every successful team has a minimum of two and a maximum of seven knuckleheads. They kind of bring a certain spice that can take a team to the next step."
Paul also noted how the Brown trade is more comparable to Raiders trades from the past that turned out with favorable results. "The Raiders aren't one step away from being a contender because they have way too many holes to fill. But bringing in Antonio Brown, who is still at his peak, is more like Raiders bringing in Andre Rison and Jerry Rice (2000) and less like Randy Moss (2005) who didn't do anything in his two years here."
In addition, Paul explained Brown's new role with Jon Gruden's offense, how the Raiders will look at the upcoming draft and slipped in some knowledge about Thad Matta, that is as intriguing as it is disturbing.
Related News
He did it again. Grayson Allen, who consistently attacked opponents while playing for Mike Krzyzewski at Duke, took multiple cheap shots at the Boston Celtics' Grant Williams during NBA Summer League play. He was ejected from last...

Read More
Two time NBA All-Star, Andre Drummond of the Detroit Pistons has been hanign out in Las Vegas the past week watching the WNBA's Las Vegas Aces and the NBA Summer League.  He sat down with TC Martin...

Read More
Justin Watkins examines the potential case of the 4-foot-11 dude who rant and raved his way into a physical confrontation at a Long Island, N.Y. bagel shop. The ESPN Las Vegas legal insider, from Battle Born Injury...

Read More