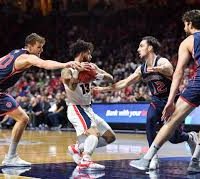 By: TC Martin
St. Mary's Head Coach, Randy Bennett played it perfectly.  Prior to the West Coast Conference Tournament, he quietly praised Gonzaga saying the Bulldogs are on another level and his team would be hard pressed to knock them off,  The Gaels did much more than pull the upset, they dominated the #1 team in the nation in every facet Tuesday night at the Orleans Arena, winning convincingly 60-47 and earning a berth in the NCAA Tournament.
​The Gaels eliminated any talk of being on the NCAA bubble while ending the nation's longest winning streak of 21 games and a six -year reign as WCC Tournament champions. They did it by playing sound defense and holding the Zags in check.  Gonzaga was 2 for 17 from 3-point range and shot a season low of 37 percent from the field.  The 47 points was also a season low for the highest scoring team in the country.
​The win by St. Mary's was shocking for several reasons.  They were blown out these same Bulldogs 94-46 and 66-55 during the regular season and they struggled in the semifinal against San Diego before finally pulling out a narrow victory the night before.  They played by far their best game of the season when it counted the most.
​Meanwhile Gonzaga was a lock to be a #1 seed and now that may be in question.  With Duke, Virginia, North Carolina and Kentucky all set to play in their conference tourneys this weekend, the Zags must sit and wait to find out if they will make the top line and stay close to home.
​The WCC will now have two teams in the big dance with each having a legitimate chance to move through the bracket.  As shocking as the win was by the 15 point underdog Gaels, this may propel them to be a dark horse and a scary opponent in the tournament.
​
FOR IMMEDIATE RELEASE MAY 26, 2020 NHL ANNOUNCES RETURN TO PLAY PLAN FOR 2019-20 24 Teams Will Restart Play, Compete for Stanley Cup 2 "Hub" Cities Will Play Host to Games Protocol for Players' Return to...

Read More
We will go deep into the vault to bring you classic ESPN Las Vegas Videos.  Some of these videos are from over a decade ago. Ballpark Frank (you will hear his voice) and Darian Cozier...

Read More
Here are some links to resources that may help you stay informed and knowledgeable. https://nvhealthresponse.nv.gov/ https://www.cdc.gov/coronavirus/2019-ncov/index.html www.southernnevadahealthdistrict.org/coronavirus. https://sites.google.com/nv.ccsd.net/covid-19updates/home#h.au7wl6jpawt9 Also if you are able to help, threesquare is doing great work here locally in...

Read More