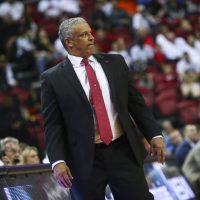 The Rebels put on one of their best defensive performances of the year, but it wasn't enough to knock off San Diego State, as UNLV fell 63-55 in the Mountain West Tournament.
San Diego State shot just 29.8 percent for the game, despite the win.
"They defended us better than anyone else defended us this year," San Diego State's head coach Brian Dutcher said.
UNLV's offense struggled, shooting just 32.3 percent and scoring just 55 points on 69 possessions (.797 points per possession).
Noah Robotham made just 1 of his 7 shots from the floor, while Joel Ntambwe was 4 of 15. The two more efficient starters were Kris Clyburn (6 of 15) and Amauri Hardy (5 of 12).
Both teams failed to convert offensively, but San Diego State pulled away late, outscoring UNLV 16-8 over the final four minutes.
Marvin Menzies' job has been questioned throughout the season, after the game, he addressed those concerns.
Marvin Menzies on if he's feeling any uncertainty about his job status heading into the offseason: "Not at all."

— Mike Grimala (@MikeGrimala) March 15, 2019
Sophomore guard Amauri Hardy was asked about what he thinks is next for himself and the program.
"The future is bright for all of us," Hardy said. "The future is bright for coach. The future is bright for me."
UNLV ends the season with a 17-14 record, while going 11-7 in the Mountain West before bowing out in the quarterfinals of the tournament.
UNLV has not been to the semifinals since 2014.
The Mountain West is closing in on signing a new broadcast deal, and Craig Thompson thinks it will look similar to the current deal. Plus Thompson says he would not have agreed to deal the AAC signed...

Read More
The Mountain West is closing in on signing a new broadcast deal, and Craig Thompson thinks it will look similar to the current deal. Plus Thompson says he would not have agreed to deal the AAC signed...

Read More
Tony Sanchez always pulls out a win he isn't supposed to grab. For his 2019 upset special, UNLV, a 14.5-point underdog, went to Nashville and crushed Vanderbilt. The biggest advantage UNLV had was on the sidelines, as...

Read More