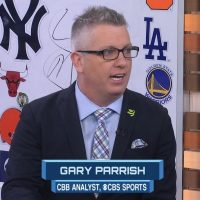 Parrish, based out of Memphis, has witnessed one of the biggest turnarounds of the century in college basketball.
Anfernee Hardaway with the help of Mike Miller led the Tigers to 22 wins and a berth in the NIT.
A favorite of Las Vegas internet media, Miller has been hot name for the open head coaching job at UNLV.
Parrish told Cofield & Co. that Miller has the "it" factor, but he just lacks experience as an assistant coach in college hoops.
Photo courtesy CBS Sports
The Raiders are fresh off an important win over the Chargers and they are looking good for the playoffs. We had former NFL cornerback and Hall of Famer Rod Woodson on Cofield & Co. to get his...

Read More
The Raiders are fresh off an important win over the Chargers and they are looking good for the playoffs. We had former NFL cornerback and Hall of Famer Rod Woodson on Cofield & Co. to get his...

Read More
The Raiders are fresh off an important win over the Chargers and they are looking good for the playoffs. We had former NFL cornerback and Hall of Famer Rod Woodson on Cofield & Co. to get his...

Read More