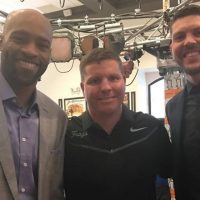 Mike Grimala appeared on Cofield & Co. to talk about the latest with the UNLV Runnin Rebels search for a new head coach.
Hot on the internet rumor mill today?
8 News Now's Jon Tritsch said that a source told him that some UNLV players spoke on the phone to Athletic Director Desiree Reid-Francois, and asked her to hire Memphis assistant coach Mike Miller.
Grimala said he got the same "tip" today, but refused to run with the story.
It didn't seem credible.
Photo courtesy Las Vegas Review-Journal
Related News
There's been some epic screaming matches around Steve Cofield over his 15 years doing local radio in Las Vegas. This week may have topped them all. The Olive Garden's promotion of the Pasta Pass sent Adam Hill...

Read More
There's been some epic screaming matches around Steve Cofield over his 15 years doing local radio in Las Vegas. This week may have topped them all. The Olive Garden's promotion of the Pasta Pass sent Adam Hill...

Read More
Anaheim is hosting an MMA doozy tonight. In what may be his swan song, Daniel Cormier defends his UFC heavyweight and tries to take out Stipe Miocic for a second time at UFC 241. Nate Diaz ends...

Read More