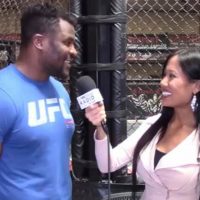 UFC heavyweight Francis Ngannou (13-3 MMA) is scheduled to be fighting Junior dos Santos (21-5 MMA) at UFC 239 on July 6 at T-Mobile Arena.
Ngannou is coming off back-to-back first-round KO victories over former UFC heavyweight champion, Cain Velasquez, and Curtis Blaydes.
At Xtreme Couture, he spoke to Helen Yee about his upcoming fight and when it's expected to be finalized, his win over Cain Velasquez, Junior dos Santos, Daniel Cormier vs Brock Lesnar, and more.
Video below.
Related News
Tonight The Aviators played their last of a five-game series with the Sacramento River Cats in front of a sold-out crowd. That makes 29 sold-out games so far this season at The LV BallPark. Las Vegas won...

Read More
The Vegas Golden Knights have officially signed William Karlsson to an extension. The 26-year-old Swedish forward is locked into a team friendly eight-year deal with an Average Annual Value of $5.9 Million. Jesse Granger, The Athletic, reported...

Read More
UFC light heavyweight champion Jon Jones (24-1, 1 NC MMA) will be fighting Thiago Santos (21-6 MMA) on July 6 at UFC 239 at T-Mobile Arena in Las Vegas. During media day, he spoke to Helen Yee...

Read More