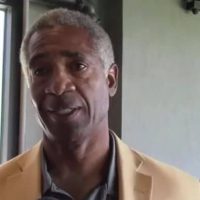 The Raiders Foundation will host their second Annual "Celebrity Swing" on Wednesday, May 8 from 6:30pm-9pm at Topgolf Las Vegas.
Raiders Alumni, Raiderettes, and Raider personalities will be at the event.
Proceeds from the event benefit Communities In Schools of Southern Nevada. It's one of the largest state operations to keep students in school on the graduation path and serves more than 67,000 students and their families to community-based and educational resources.
For more informational regarding individual tickes and sponsorships, go to www.RaidersFoundation.org.
NFL Hall of Famer, Mike Haynes, spoke to Helen Yee about the "Celebrity Swing", the Raiders upcoming season, Raiders to Las Vegas, Antonio Brown, and more.
Communities In Schools Executive Director Cheri Ward also discussed the partnership.
Video below.
Related News
Keith Glass has an amazing story on how he became an NBA agent of the 7 foot white backup centers of the NBA back in the day.  He just released his new book "7 Foot man Eating...

Read More
By: TC Martin Bill Laimbeer has said all along, there is a three year plan in place when explaining how long it will take for the Las Vegas Aces to be a perennial playoff contender and possibly compete for a WNBA championship. ...

Read More
Please understand something first of all. I'm not looking to be a hater. I've been a fan of my beloved Boston Red Sox for longer than I've been a KISS fan and that's a pretty damn long...

Read More