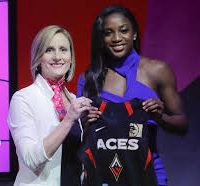 By: TC Martin
Although the Las Vegas Aces weren't the worst team in the WNBA last season, they found some draft lottery magic and received the #1 pick in this year's draft.  They used that selection on Notre Dame standout, Jackie Young.
The 6'0 versatile guard is now the third number one overall selection to be a member of the Aces.  Young joins A'ja Wilson and Kelsey Plum who had that honor the past two drafts and will make this year's squad a heavy guard oriented team.  Young averaged 15 points, 7 rebounds and 5 assists per game for the Irish and led them to the NCAA Championship game this season and the title last year.
​Aces President and Head Coach, Bill Laimbeer said it was a no brainer in selecting Young.  "Once she declared, we knew she was our choice.  She is the best all around player on the board and her game fits to what we need, said Laimbeer.  "She is tough and a good defender on the wing." added Laimbeer.
Young, a junior entered the draft on Monday, a day after Notre Dame lost to Baylor 82-81 in the NCAA Championship game.  Laimbeer had it down to three players but opted to go with the all around guard as his choice.  Young is the third Notre Dame player on the roster joining Kayla McBride who was the third overall pick in 2014 and the Aces second leading scorer last year, along with backup point guard, Lindsay Allen.  Let's not forget  that Laimbeer himself is a former Irish player.
​Las Vegas had only one selection in the three-round draft.  Laimbeer traded away a second round selection last year to acquire center Ji-Su Park and felt the nucleus of his team was already in place.
​The Aces begin Training Camp on May 5th and will open the season with their first exhibition game at Mandalay Bay on May 19th against Minnesota and will open the regular season at home on May 26th versus the Los Angeles Sparks.
Related News
The Mountain West is closing in on signing a new broadcast deal, and Craig Thompson thinks it will look similar to the current deal. Plus Thompson says he would not have agreed to deal the AAC signed...

Read More
During ONE Championship media day in Tokyo, ONE strawweight champion Xiong Jing Nan spoke to Helen Yee about her rematch against Angela Lee, what she thinks of Zhang Weili, and more. Please note: Interview in Mandarin Video...

Read More
Tony Sanchez always pulls out a win he isn't supposed to grab. For his 2019 upset special, UNLV, a 14.5-point underdog, went to Nashville and crushed Vanderbilt. The biggest advantage UNLV had was on the sidelines, as...

Read More