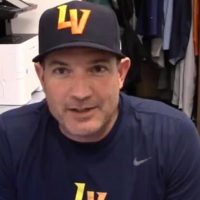 On Thursday, April 11 at Las Vegas Ballpark, the Aviators defeated the River Cats 11-3; they swept the three-game series.
4! 4 Triples in a row! @AviatorsLV 5 @RiverCats 1 https://t.co/9m6JSfnba9

— 920 The Game KBAD (@920TheGame) April 12, 2019
Paul Blackburn allowed 5 hits, 1 unearned run, walked 1 and struck out 3 on 91 pitches.
Jorge Mateo was 4-for-5, two doubles, triple, three runs scored.
Sean Murphy was 4-for-5, triple, 4 RBI. He also hit the first home run in Las Vegas Ballpark history by a Las Vegas player.
SEAN MURPHY WITH THE FIRST AVIATOR HOMERUN IN LV BALLPARK HISTORY⚾️✈️

Let it fly! Murphy secures a 3 run homer in the bottom of the 8th bringing the score to ✈️ – 11 , ???? – 2 pic.twitter.com/14wEnl2J1m

— Las Vegas Aviators (@AviatorsLV) April 12, 2019
Afterwards, Aviators Manager Fran Riordan spoke about their win.
Video below.
NEXT GAME: Aviators will host Fresno on Friday, April 12 at 7:05 p.m. at Las Vegas Ballpark