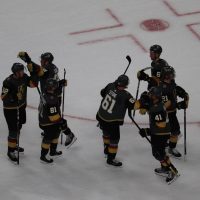 Vegas Golden Knights defeated San Jose Sharks 6-3 in game 3 of their Stanley Cup Playoff series on Sunday, April 14 at T-Mobile Arena.
Mark Stone earned his first NHL career hat trick which was also the first hat trick by a Golden Knights' player in the playoffs.
Stone helped Golden Knights get off to a quick start by scoring his first goal of the night 16 seconds into the game. He was assisted by Nate Schmidt and Deryk Engelland.
With 7:44 remaining, Max Pacioretty scored his second goal of the playoffs and for Vegas with assists by Shea Theodore and Paul Stastny.
Then, 15:26 into the first period, Kavin Labanc put one on the board for San Jose with assists by Joe Thornton and Marcus Sorensen.
Golden Knights got off to another quick start to begin the second period as Paul Stastny scored his first goal of the postseason. He was helped by Max Pacioretty and Mark Stone.
Stastny continued his momentum by scoring again with 3:56 left in that period. Mark Stone and Shea Theodore assisted.
In the third period, Mark Stone scored his second goal of the night 36 seconds into it. He was assisted by Jonathan Marchessault and Paul Stastny.
Logan Couture and Timo Meier then scored back-to-back goals for the Sharks.
Mark Stone scored his third goal, and first hat trick, 13:57 into the third with help by Paul Stastny and Shea Theodore. That was his sixth goal of this postseason.
"I'm just loving being here. I love playing in Vegas, my teammates, the fans, the city, I absolutely love playing here. This is why I came here. I wanted to play playoff hockey. It was a great game for our team get up 2-1." Stone said, about recording his first career hat trick.
He also discussed the atmosphere for the first home playoff game. 'Playing here is unbelievable. It's obviously our first playoff game here, Paul Stastny maybe experienced it playing for Winnipeg last year, but it's everything I expected and more. These fans are great they give us that little extra boost when things aren't going right. When San Jose made it 5-3 we were able to get energy in the building. Kill that penalty off and our fans fed off it and ultimately, we fed off it."
Paul Stastny added, regarding the atmosphere at T-Mobile Arena. "This was nice. We knew we would come out ready to go but this was big win for us, we fed off the crowd when we needed to. Tonight, we'll enjoy this one, there is no momentum that carries over and that's the beauty of whether you win a game or lose a game. The next game we'll start from scratch again and we'll be ready for that."
After the game, Golden Knights head coach Gerard Gallant spoke about Mark Stone, Max Pacioretty, and Paul Stastny's line. "They have been awesome, obviously tonight scoring. I think the first shift, every period they went out. So, they were outstanding tonight. They played really well all series long. Still a long way to go, but they have played great so far."
He then spoke about the physicality of the game. "Well, they liked to score every shift, and especially to open up a game and coach says that every night, but it doesn't happen too often. Tonight, we went out there and found a way to get a couple goals early and we carried the momentum a lot."
"It was great to get those quick starts. It was a physical game. We played really disciplined and that's what my main concern is. We didn't take a lot of penalties tonight. I thought we played a great game."
Vegas Golden Knights now leads the series 2-1.
NEXT GAME: Golden Knights host Sharks at T-Mobile Arena on Tuesday, April 16 at 7:30p.m.
YouTube star Logan Paul will be making his professional boxing debut against KSI on Saturday, November 9 at Staples Center. During the press conference, Paul spoke to Helen Yee of Eyes On The Game about his upcoming...

Read More
YouTube star Logan Paul will be making his professional boxing debut against KSI on Saturday, November 9 at Staples Center. During the press conference, Paul spoke to Helen Yee of Eyes On The Game about his upcoming...

Read More
YouTube stars KSI and Logan Paul will be making their professional boxing debut on Saturday, November 9 at Staples Center. After their press conference, Matchroom Boxing President Eddie Hearn spoke to Helen Yee of Eyes On The...

Read More