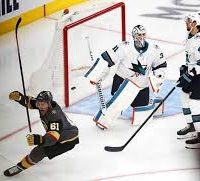 By: TC Martin
The last three weeks of the regular season and Game One of the opening round of the the Stanley Cup Playoffs seem a distant memory as the Vegas Golden Knights have turned things around in a hurry in defeating the San Jose Sharks in Games 2 and 3.
Sunday night's home playoff opener was a thing of beauty as Vegas send a message early in each period while winning handily 6-3 and taking a 2-1 series lead.  Before one could get get comfy and take their seat, the Knights pounced on goaltender Martin Jones 16 seconds into the contest and Mark Stone scored the game's first goal.  The trend continued as Paul Stastny lit the lamp 21 seconds into the second period to make it 3-1 and after he tallied another near the end of the period, Stone got his second of the night 36 seconds into the third period to make the game a rout.
​Stone, who has been electrifying since his acquisition before the trade deadline secured the franchise's first playoff hat trick with game's final goal at the 13:57 mark to send a bevy of hats flowing on the ice.  Stastny's two goals along with Max Pacioretty firing one in the net in the first period was a sign that all three newcomers have made an immediate impact since joining their new team this season and each want badly to duplicate what this franchise did last year in the postseason.
​After a lackluster Game 1, the Golden Knights, responded with a very physical and aggressive approach.  Not only from a goal scoring perspective but dominating the flow of the play.  They have outhit the Sharks 46-31 in Game 2 and 56-42 in Game 3. The difference on Sunday night was that they stayed out of the penalty box for a majority of the game.  Vegas was 2 for 6 on the power play while San Jose was 1 for 3.
​The Golden Knights can take a commanding 3-1 series lead with another home victory tomorrow night.  The fortress will be rocking once again in anticipation of subduing the Sharks for a second consecutive postseason.
​
​
Related News
The Vegas Golden Knights have officially signed William Karlsson to an extension. The 26-year-old Swedish forward is locked into a team friendly eight-year deal with an Average Annual Value of $5.9 Million. Jesse Granger, The Athletic, reported...

Read More
The Vegas Golden Knights have officially signed William Karlsson to an extension. The 26-year-old Swedish forward is locked into a team friendly eight-year deal with an Average Annual Value of $5.9 Million. Jesse Granger, The Athletic, reported...

Read More
The 2019 Road to Wimbledon for Men They say that Father Time is undefeated and that eventually age is the downfall of every athlete. Apparently Roger Federer isn't ready to give into that theory. Federer just won...

Read More