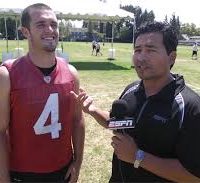 ESPN.com's Paul Gutierrez said many of the scouts will be looking for a new job following next Thursday's NFL Draft.
Mike Mayock is the new GM and will be hiring his own staff of scouts.
Gutierrez has the skinny on who the Raiders will select next week with the No. 4 pick. It sounds like it WON'T be Kentucky's Josh Allen.
Alabama's Quinnen Williams is the target, but will he be there at No.4?
Entire interview:
Photo courtesy ESPN.com
Related News
The Mountain West is closing in on signing a new broadcast deal, and Craig Thompson thinks it will look similar to the current deal. Plus Thompson says he would not have agreed to deal the AAC signed...

Read More
The Mountain West is closing in on signing a new broadcast deal, and Craig Thompson thinks it will look similar to the current deal. Plus Thompson says he would not have agreed to deal the AAC signed...

Read More
Tony Sanchez always pulls out a win he isn't supposed to grab. For his 2019 upset special, UNLV, a 14.5-point underdog, went to Nashville and crushed Vanderbilt. The biggest advantage UNLV had was on the sidelines, as...

Read More