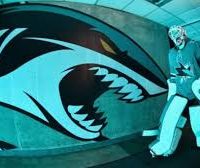 By: TC Martin
The San Jose Sharks finally woke up after losing three straight games to the Vegas Golden Knights and were on the brink of playoff elimination.  The Sharks responded with determination and aggression like we haven't seen since the opening game of the best of seven series in winning Game 5, 5-2 Thursday Night in San Jose.
​The common theme in this seines has been early goals and instead of the Knights being the team that scored first, this time it was the Sharks.  Tomas Hertl scored 1:16 into the contest in getting the San Jose crowd into it early. This was a sign of things to come.  The Sharks scored again 10 minutes later on Logan Couture's goal to make it 2-0 and the Knights were in catch up mode from then on.
San Jose goaltender, Martin Jones, who has been the target of many in this series for giving up a plethora of goals, was spectacular in Game 5.  Jones was pulled from the two of the past three games but was a difference maker in this contest.  Jones made 30 saves including a brilliant pad save on Reilly Smith's shot midway through the third period with the Knights trailing 3-2.
Marc-Andre Fleury made 24 saves for the Knights after pitching a shutout in Game 4 but couldn't hold hold off a aggressive Sharks team in this do or die battle for the Sharks.  The story for each game thus far has been the team that has been more physical has won.  For the first time in three games, the Sharks outhit Vegas 34-23.
The Sharks have life and will now try to force the series back to San Jose for a deciding Game 7.  The series shifts back to T-Mobile Arena for a clinching Game 6 for Vegas on Easter Sunday.  We will see if the Sharks can continue their resurrection with the same fight and grit they displayed on Thursday night.
​
Related News
UFC 241 took place on Saturday, August 17 at a sold-out Honda Center in Anaheim, California. The entire card delivered and also earned a new California record gate for MMA – $3,237,032.00. While there were so...

Read More
Undefeated UFC middleweight, Edmen Shahbazyan (10-0 MMA) just defeated Jack Marshman in the first round at UFC 239. The 21-year old hopes to break the record for the youngest UFC champion which Jon Jones currently holds. At...

Read More
Donnie Tillman is the ideal complimentary piece for Amauri Hardy and UNLV. The Utah transfer comes to UNLV with a skillset that will be an excellent fit as a secondary scoring option. Last year at Utah Tillman...

Read More