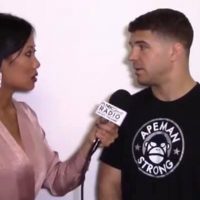 Al Iaquinta (14-4-1 MMA) will be fighting Donald Cerrone (35-11, 1 NC MMA) at UFC Fight Night 151 on May 4 in Ottawa.
Iaquinta is coming off a rematch victory over Kevin Lee in December.
At Serra BJJ, he spoke to Helen Yee of Eyes On The Game about his upcoming fight against Cerrone, the lightweight division, Kevin Lee, Dustin Poirier vs Max Holloway, Justin Gaethje, and more.
Video below.
FOR IMMEDIATE RELEASE MAY 26, 2020 NHL ANNOUNCES RETURN TO PLAY PLAN FOR 2019-20 24 Teams Will Restart Play, Compete for Stanley Cup 2 "Hub" Cities Will Play Host to Games Protocol for Players' Return to...

Read More
We will go deep into the vault to bring you classic ESPN Las Vegas Videos.  Some of these videos are from over a decade ago. Eight years ago, Frank Caliendo came in to talk with...

Read More
Here are some links to resources that may help you stay informed and knowledgeable. https://nvhealthresponse.nv.gov/ https://www.cdc.gov/coronavirus/2019-ncov/index.html www.southernnevadahealthdistrict.org/coronavirus. https://sites.google.com/nv.ccsd.net/covid-19updates/home#h.au7wl6jpawt9 Also if you are able to help, threesquare is doing great work here locally in...

Read More