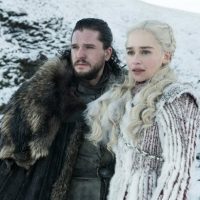 Episode 2 is almost here!!
At the end of Episode 1, Jon Snow got the startling news that HE is the rightful heir to the throne of the Seven Kingdoms.
Steve Cofield and Ryan McKinnell discuss Snow's reaction. What was more shocking? That he should be the King or that he's been smashing his aunt?
What'll happen when Daenerys finds out? Will she do the right thing?
Photo courtesy HBO

The Astros and Rob Manfred have somehow managed to make the Astros' cheating situation worse. Voice of the LA Dodgers, Tim Neverett joined us on Cofield & Co. to help find some type of reasoning behind Manfred's...

Read More
The Astros and Rob Manfred have somehow managed to make the Astros' cheating situation worse. Voice of the LA Dodgers, Tim Neverett joined us on Cofield & Co. to help find some type of reasoning behind Manfred's...

Read More
The Astros and Rob Manfred have somehow managed to make the Astros' cheating situation worse. Voice of the LA Dodgers, Tim Neverett joined us on Cofield & Co. to help find some type of reasoning behind Manfred's...

Read More