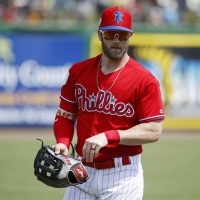 The lead singer of Smashmouth is a big fan of sports.
His takes? Well, sometimes their that of a delusional fan.
"Steve" is still bent because Harper chose to play on the East coast. Those Phillies fans are tough, and were booing Bryce recently.
The elderly singer told Harper that he's a moron for choosing Philly over San Fran, where the fans are much more loyal and polite.
Yo Bryce…….told you not to go to Philly jackass! The @SFGiants fans NEVER boo their own players! You we're lead by $ only so swim in the sea of boos now! How much do you love your agent now?? Worth the taxes you avoided? How's that 45min drive to the stadium?lol @bryceharper3

— Smash Mouth (@smashmouth) May 1, 2019
Cofield & Co. shredded Smashmouth's silly opinion.
Photo courtesy of Philadelphia Enquirer
It's that time of year when we get to really see which NFL teams look like they could go far in the playoffs. Stanford Routt is a former NFL cornerback and one of our Raiders insiders. He...

Read More
It's that time of year when we get to really see which NFL teams look like they could go far in the playoffs. Stanford Routt is a former NFL cornerback and one of our Raiders insiders. He...

Read More
It's that time of year when we get to really see which NFL teams look like they could go far in the playoffs. Stanford Routt is a former NFL cornerback and one of our Raiders insiders. He...

Read More